Ferry Schedules
SeaCat has trips every day from Cebu to Calbayog and vice versa. The fast craft ship will depart from the Cebu City Pier 3 and the Calbayog City Port if you traveling from Calbayog City, Samar.
Daily Schedule
Cabayog City
Departure Time
Cebu City
Departure Time
8:00 AM
10:00 PM*
*subject for approval
The boat will depart from Calbayog City at 8:00 AM and will make a return trip from Cebu City at 10:00 PM. Fast crafts are passenger-only ships so vehicle transport is not possible.
Travel Time
The estimated ferry travel time between Cebu and Calbayog is 5 hours.
Travel Guidelines
Please secure the following before purchasing your ticket:
– Valid ID
– Health Certificate (From City Health Office)
– Travel Pass (From PNP)
– Letter of Coordination (From Receiving LGU)
*Note: Travel Requirements must be valid until the date of departure
Limited Capacity Operations
a. Social Distancing will be observed
b. 50% capacity
Passengers from Cebu going outside Calbayog City shall immediately be transported by PUVs to their respective destinations.
Passengers from outside Calbayog going to Cebu shall be transported by PUVs straight to the port terminal.
Fare Rates
Passengers
The ticket fare depends on the type of accommodation you choose. You can choose between Economy Class, Tourist Class, and Business Class.
| Accommodation | Fare Rate |
| --- | --- |
| Economy Class | ₱1200.00 |
| Tourist Class | ₱1300.00 |
| Business Class | ₱1600.00 |
Discounts
Passenger
Fare Discount
Senior Citizen
20% off on Economy and Tourist class only
Student
20% off on Economy class only
Children
(2 to 12 years old)
50% off on Economy and Tourist class only
Children below 2 years old
100% off / FREE
The regular passenger fare for the Economy Class is 1200 PHP, Tourist Class 1300 PHP, and Business Class 1600 PHP. Students, senior citizens, and PWDs can avail of a fare discount as long as they can provide a valid I.D.
Pets
Those bringing along pets or livestock, the animals will be accepted as cargo. However, support dogs are not permitted to travel. You also need to comply with some requirements before bringing your pet/s along.
| Animals | Fare Rates |
| --- | --- |
| Dog | ₱200.00 |
| Chicken | ₱200.00 |
Requirements
Pets must be in cage
Traveling permits must be secured from the City Veterinary Office prior to departure
Baggage & Cargo
Passengers
Free Baggage Allowance – 15 kilograms
Excess baggage: ₱15.00 per kilo. No limit as to the number of kilos.
Sports equipment shall be considered as automatic excess baggage even if the total baggage weight of the passenger is still within the free baggage allowance.
Non-passengers
₱200.00 for every 5 kilograms. In excess of will be rounded to nearest 5 kilos. Minimum of 5 kilos.
Sports equipment weighing 1-9 kilograms will be charged 10 kilograms at 100% of the applicable rate. For example, a golf club weighing 4 kilograms shall be charged ₱400.00.
Weapons and ammunition will not be accepted for carriage.
Booking
BOOK A FLIGHT
For online bookings, you can book your tickets through Barkota. But if you are in a hurry, there are flights available from Cebu to Calbayog and vice versa via CebGo.
Contact Information
For those with inquiries about the trip, these are the contact numbers of the different SeaCat and Grand Ferries offices.
Reference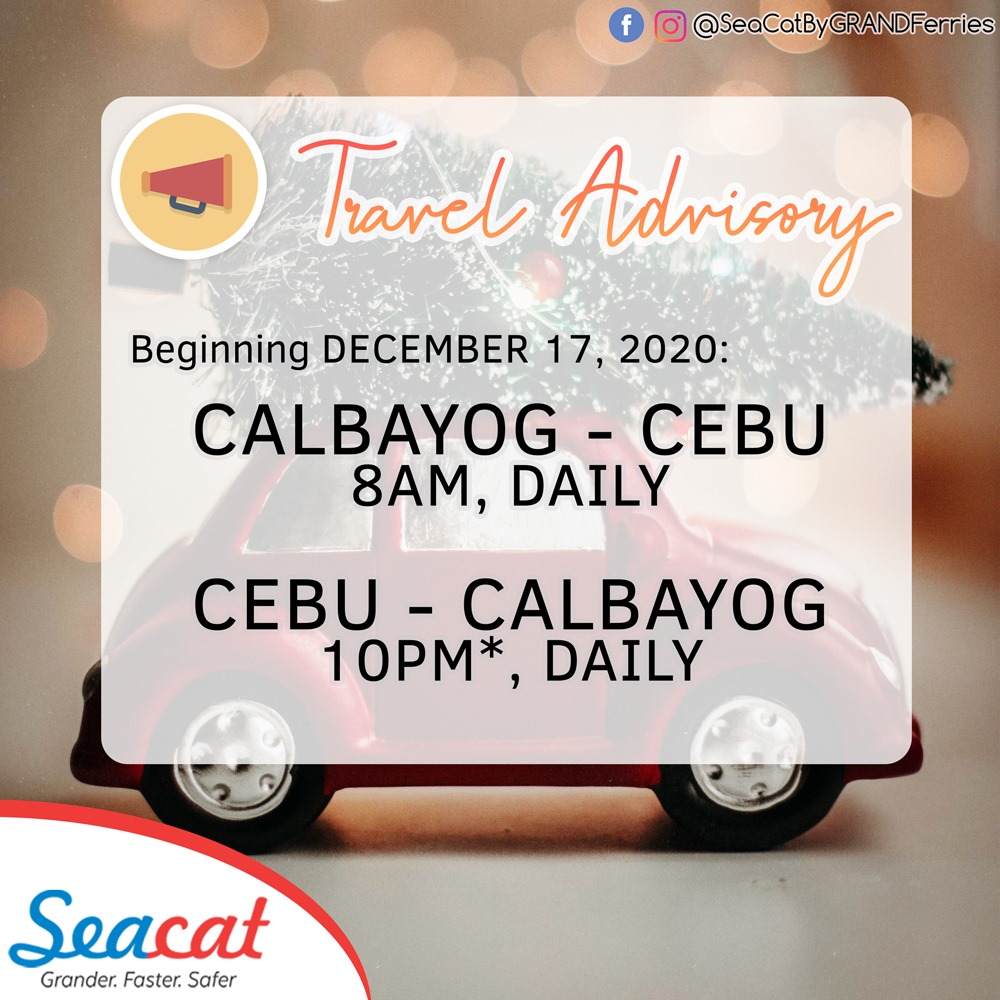 Hotels & Resorts
Cebu City
Calbayog City
Related Trips
Summary
SeaCat has daily trips between Cebu City and Calbayog City, Samar. The ferry will depart from Calbayog City at 8:00 AM while from Cebu City, the ferry will depart at 10:00 PM. The total travel time is 5 hours. The regular passenger fare is ₱1200.00.
About SeaCat
SeaCat is owned by Grand Ferries and is one of newest fast craft ferry boats in the Philippines. Currently, they only offer one route which is from Calbayog to Cebu and vice versa. They occasionally give out promo discounts which you can find on their Facebook page.
Check out the SeaCat page for more details.
COMPLETE YOUR VACATION...