Ferry Schedules
Montenegro Lines has trips every day from El Nido to Coron and vice versa. The ports for this route are the El Nido Ferry Terminal and the Coron Sea Port. Both of them are part of the province of Palawan. Trips to return on March 16 from El Nido and March 19 from Coron.
Daily Schedule
El Nido
Departure Time
Coron
Departure Time
6:00 AM
12:00 NN
The fast craft trips from El Nido will depart at 6:00 AM while the trip from Coron will depart at 12:00 NN. The boat is a passenger-only ship so vehicle transport is not possible.
Travel Time
Despite the boat being a fast craft, because of the distance, the estimated ferry travel time between El Nido and Coron is 4 hours.
Fare Rates
The ticket fare depends on whether you are an adult, a student, a senior citizen, or a minor.
| Passenger | Fare Rates |
| --- | --- |
| Regular | ₱1760.00 |
| Student | ₱1496.00 |
| Senior Citizen | ₱1257.00 |
| Minor | ₱880.00 |
Minors are children who are 3 to 7 years old. For students, senior citizens, and PWDs, they must provide a valid ID to avail of the discount.
Booking & Reservation
BOOK FERRY TRIP
For offline bookings and reservations, you could use the contact numbers provided in this article or head to any Montenegro Lines ticketing office/outlet.
Contact Information
You could get in touch with Montenegro Lines by using the contact numbers below. They also have an email address in case the phone numbers are unattended.
Phone numbers
Email address
Reference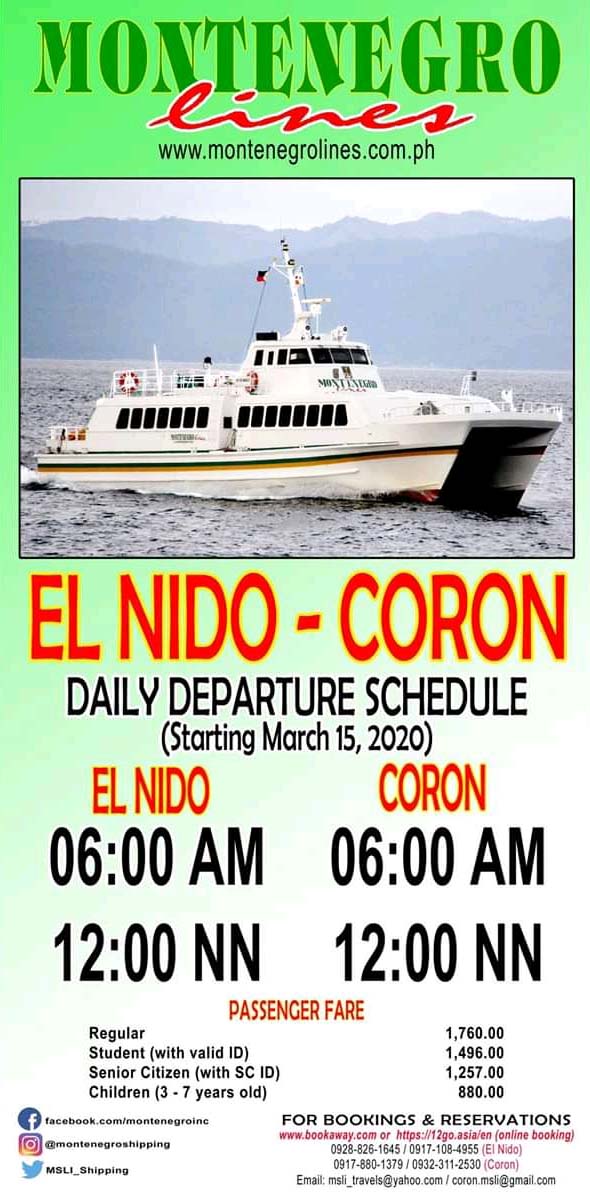 Hotels & Resorts
El Nido, Palawan
Coron, Palawan
Related Trips
Summary
Montenegro Lines has daily trips between El Nido and Coron. The ferry from El Nido will depart at 6:00 AM while the ferry from Coron will depart at 12:00 NN. The total travel time is 4 hours. The regular passenger fare is ₱1760.00.
About Montenegro Lines
Montenegro Lines is a popular shipping company in the Philippines which offers both fast crafts and RORO vessels for sea transportation. They have trips to the different provinces of Luzon, Visayas, and Mindanao.
For the full list of routes by Montenegro Lines, check out the Montenegro Lines page.