Ferry Schedules
Jomalia Shipping has ferry trips every day from El Nido to Coron and vice versa. Both city ports are part of the province of Palawan and are popular tourist destinations.
Daily Schedule
| Coron to El Nido | El Nido to Coron |
| --- | --- |
| 7:30 AM | 12:30 PM |
The ferry from Coron will depart at 7:30 AM while the ferry from El Nido will depart at 12:30 PM. The ship is a fast craft vessel.
Travel Time
The estimated ferry travel time between El Nido and Coron is 3 hours and 30 minutes.
Fare Rates
The ticket fare depends on whether you are an adult, a student, a senior citizen, or a minor. Students and senior citizens must provide their valid IDs to avail of the discounted prices.
| Passenger Type | Economy | Aircon |
| --- | --- | --- |
| Regular | ₱1,800.00 | ₱1,800.00 |
| Student | ₱1,440.00 | ₱1,440.00 |
| Senior Citizen/PWD | ₱1,285.00 | ₱1,285.00 |
| Minor (3-7 yrs. old) | ₱900.00 | ₱900.00 |
The regular passenger fare is 1800 PHP for both the Economy and Aircon class.
Online Booking
BOOK FERRY TICKET
You can book tickets online through the Jomalia Shipping official website.
Contact Information
For those who have questions or inquiries about the trip, you can get in touch with Jomalia Shipping through the contact numbers and email address below:
Main office
Coron
El Nido
Reference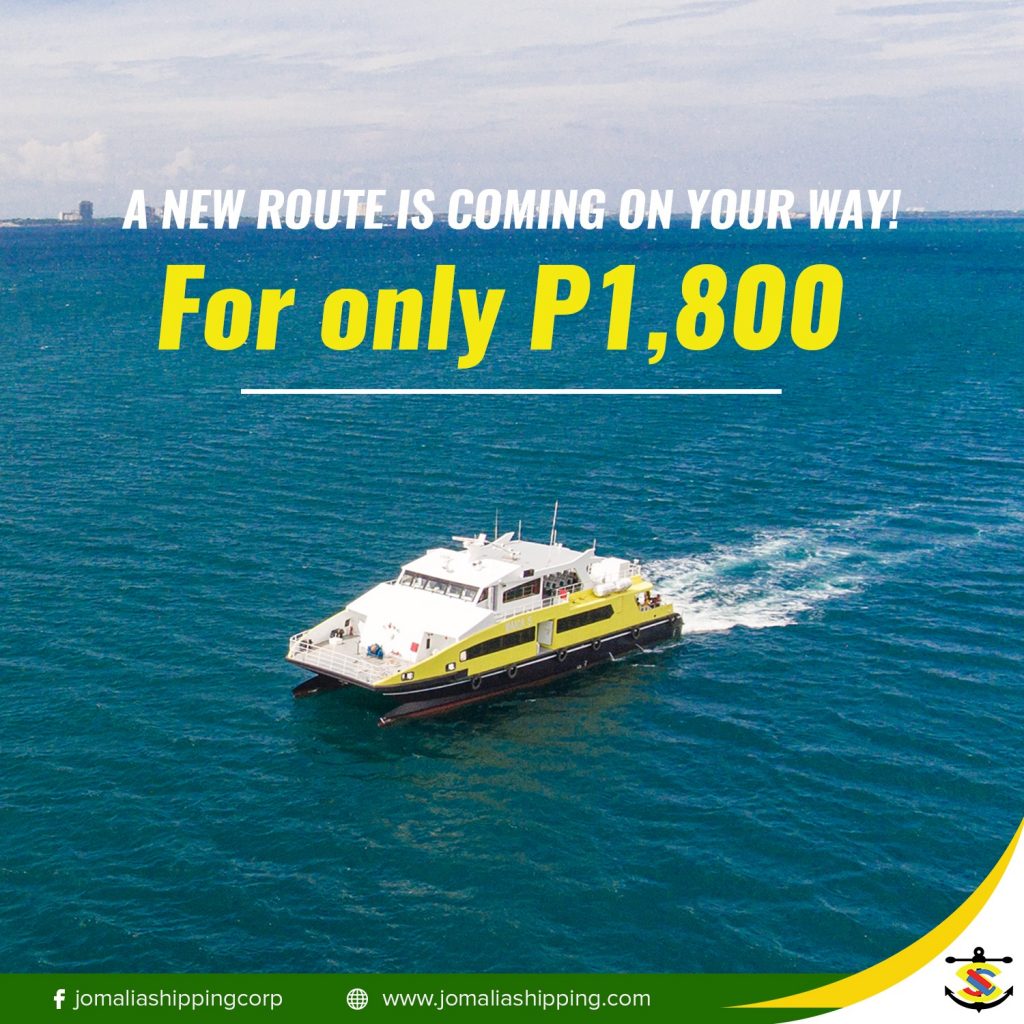 Hotels & Resorts
El Nido, Palawan
Coron, Palawan
Related Trips
Summary
Jomalia Shipping has trips daily between El Nido and Coron. The ferry boat will depart from Coron at 7:30 AM and 12:30 PM from El Nido. The travel time is 3 hours and 30 minutes. The regular passenger fare is 1800 PHP for a one-way trip.
About Jomalia Shipping
Jomalia Shipping Corporation is a popular sea transportation company in the Philippines. They have both fast crafts and RORO (rolling cargo) ships. Their list of travel destinations includes Cebu, Mactan, Camotes, Consuelo, Jagutapay, Pilar, Ormoc, Danao, El Nido, and Coron.
For the full list of routes by Jomalia Shipping, check out the Jomalia Shipping page.