Ferry Schedules
Lite Ferry has ferry trips every week from Bogo to Calbayog and vice versa. The ports for this route are the Bogo City Port in Cebu and the Calbayog City Port. The shipping vessel for this route is the MV Lite Ferry 26.
Bogo to Calbayog
12:45 AM (Tuesday/Thursday/Saturday/Sunday)
Calbayog to Bogo
12:45 PM (Sunday)
10:00 PM (Monday/Wednesday/Friday)
Lite Ferry is a RORO/slow boat and can accommodate both passengers and vehicles. The ferry departs at 12:45 AM from Bogo City every Tuesday, Thursday, Saturday, and Sunday. Meanwhile, from Calbayog City, the ferry will depart at 12:45 PM every Sunday and 10:00 PM every Monday, Wednesday, and Friday.
Travel Time
The estimated travel time of Lite Ferry between Bogo and Calbayog is 7 hours.
Fare Rates
There is only one accommodation available for the Bogo-Calbayog route and that is the Standard Class. The regular passenger fare costs Php 610.00.
| Accommodation | Fare Rate |
| --- | --- |
| Standard Class | ₱610.00 |
There is a fare discount for students, senior citizens, and PWDs as long as they can provide valid IDs.
Booking & Reservation
You can book your tickets ahead of time at any Lite Shipping ticketing office or through affiliated ticketing agents, outlets, partners. For online bookings, see the Lite Ferries page.
Reference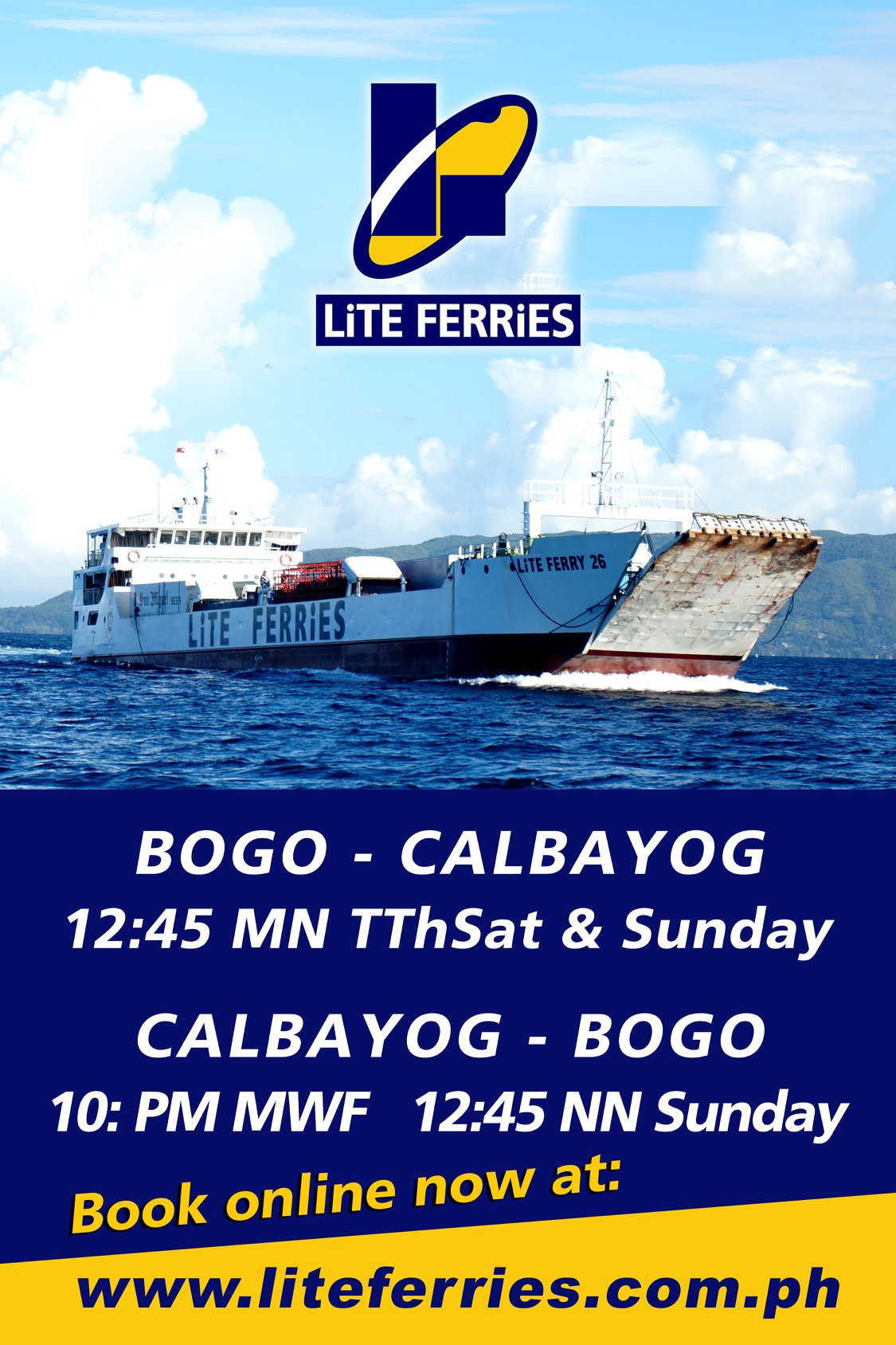 Contact Information
Lite Ferry has provided different contact numbers from each port which you can call for any inquiries or questions about their trips. But since Bogo City is part of Cebu, you can use the Cebu office number.
Summary
Lite Ferry has daily trips between Bogo and Calbayog. The ferry will depart from Bogo, Cebu every Tuesday, Thursday, Saturday, and Sunday at 12:45 MN while the ferry from Calbayog will depart every Sunday at 12:45 PM and every Monday, Wednesday, and Friday at 10:00 PM. The total travel time is 7 hours. The regular passenger fare is ₱610.00.
About Lite Ferry
Lite Ferries Shipping is a popular freight company in the Visayas and Mindanao. Their RORO/ROPAX ships can transport not only passengers but vehicles too. Their shipping routes include Argao, Bogo, Cagayan de Oro, Cebu, Dapitan, Dipolog, Dumaguete, Jagna, Larena, Loon, Nasipit, Ormoc, Oslob, Ouano, Plaridel, Samar, Samboan, San Carlos, Sorsogon, Tagbilaran, Toledo, and Tubigon.
For the full list of routes by Lite Ferries, check out the Lite Ferries page.
COMPLETE YOUR VACATION...