Island Water by Shogun Ships will suspend their Hagnaya-Santa Fe ferry route starting on July 28, 2019. According to the official advisory posted on their Facebook page, the reason for the suspension is due to the unsafe docking area of their vessel at the Santa Fe Port.
Here is the full advisory:
THIS IS AN OFFICIAL ADVISORY.

To all our valued passengers

One of the values Island Water and the management of Shogun Ships company upholds in high regard is the safety and convenience of our valued passengers. Our number one and top priority is to give you the upmost service, safety, and convenience. In regards to this, the Management, after careful and somber deliberation, we were forced to discontinue the operations in Hagnaya – Santa Fe, Bantayan Island and vice versa due to the unsafe docking area of our vessel at Santa Fe Port. The berth assigned at the said port is exposed to weather conditions caused by the South – West and North – East monsoon.

As much as we would like to serve you, our most valued passengers in Bantayan Island, we have no recourse but to temporarily suspend our operations STARTING JULY 28, 2019 until further notice. In the past few months that we have been operating, we have come to love the place and the people and this is what drives us to strive and provide you the very best service Island Water – the brand new, modern, safe, comfortable and luxurious passenger vessel and a high quality service standard, can offer.

Island Water Facebook Page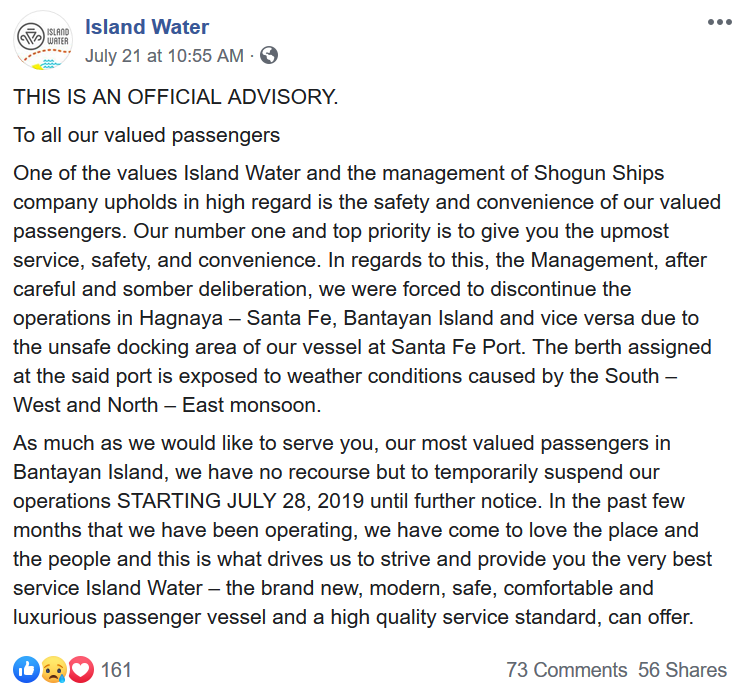 There is no word yet as to when the suspension will be lifted but we will continue to monitor for any updates.
COMPLETE YOUR VACATION...