Ferry Schedules
OceanJet has trips every day from Cebu to Dumaguete and vice versa. The ferry will depart from the Cebu City Pier 1 and the Dumaguete City Port. This is not a direct trip, however. Instead, the ship will make a stop at the Tagbilaran Port in Bohol first before continuing to either Cebu or Dumaguete.
NOTICE: DUE TO THE COMMUNITY QUARANTINE IMPLEMENTED BY SOME PROVINCES, SOME TRIPS WILL BE CANCELED. PLEASE SEE OUR OCEANJET TRAVEL ADVISORY ARTICLE.
Daily Schedule
Cebu to Dumaguete
(via Tagbilaran)
Dumaguete to Cebu
(via Tagbilaran)
5:10 AM
9:50 AM
9:20 AM
2:30 PM
The first trip from Cebu will depart at 5:10 AM with the last trip at 9:20 AM. Meanwhile, the first trip from Dumaguete will depart at 9:50 AM with the last trip at 2:30 PM.
Travel Time
The estimated ferry travel time between Cebu and Dumaguete via Tagbilaran is 4 hours. Two hours from Cebu to Tagbilaran and another two hours from Tagbilaran to Dumaguete. This is excluding the waiting time at the Tagbilaran Port to pick up new passengers.
Fare Rates
The ticket fare depends on the type of accommodation that you choose. There are three accommodations to choose from: Open-Air, Tourist class, and Business class.
| Accommodation | Fare Rates |
| --- | --- |
| Open-Air | ₱1200.00 |
| Tourist class | ₱1200.00 |
| Business class | ₱2020.00 |
The regular passenger fare for Open-Air or Tourist class cost 1200 PHP while the Business class is 2020 PHP. Students, senior citizens, and PWDs can avail a discount as long as they can provide a valid ID.
Online Booking
FIND FERRY TICKETS
You can book your tickets online through their website or affiliated ticketing partners.
Contact Information
For those who have questions or inquiries about the route, OceanJet has provided the contact numbers of each port for you to get in touch with.
Reference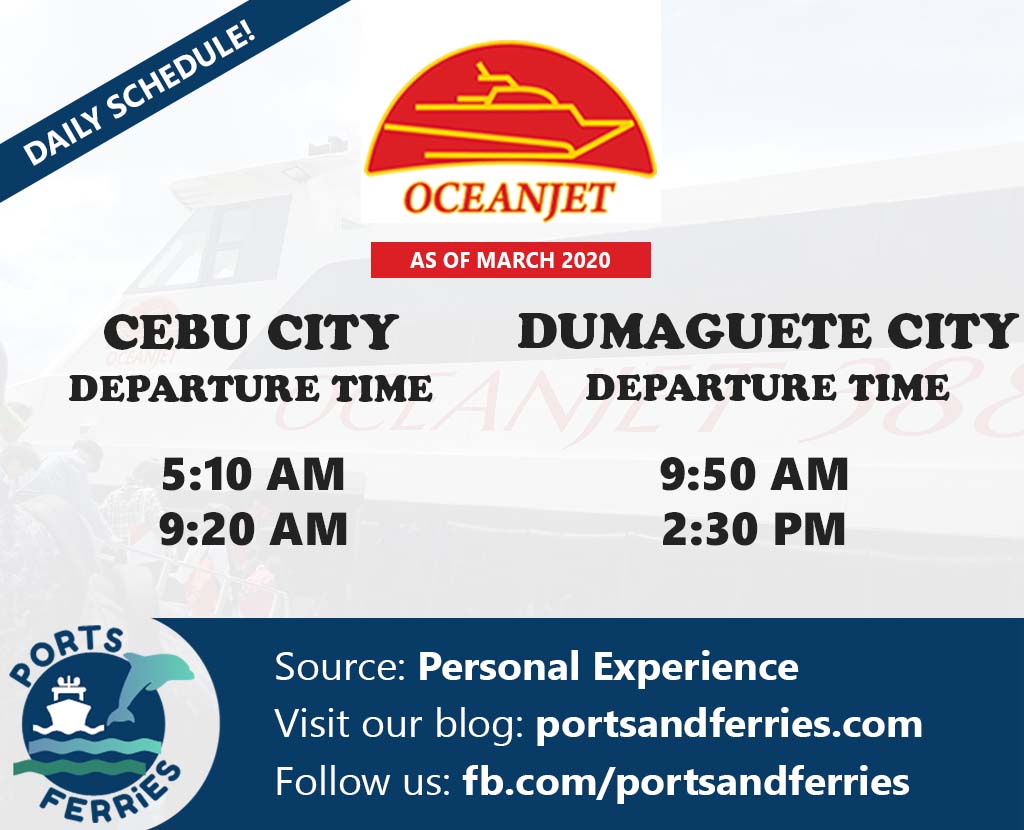 Related Trips
Hotels & Resorts
Cebu City
Dumaguete City
Summary
OceanJet has trips daily between Cebu City and Dumaguete City. The first trip from Cebu departs at 5:10 AM while the first trip from Dumaguete departs at 9:50 AM. The total travel time is around 4 hours. The regular passenger fare is 1200 PHP.
About OceanJet
OceanJet is a famous fast craft ferry service in the Visayan region of the Philippines. They offer trips to different destinations such as Cebu, Camotes, Tagbilaran, Getafe, Ormoc, Dumaguete, Siquijor, Bacolod, Iloilo, Batangas, Balatero, Puerto Galera. Out of all the fast craft companies, OceanJet has the most number of trips every day.
For the full list of routes by OceanJet, check out the OceanJet page.