Ferry Schedules
Island Water is now offering ferry trips every day from Cavite to Escolta and vice versa. This is a great alternative for commuters looking to avoid traffic when traveling between Cavite City and the City of Manila. The shipping vessel for this route is the MV Island Sabtang.
Daily Schedule
Cavite City
Departure Time
Escolta, Manila
Departure Time
6:30 AM
6:30 PM
The ferry boat from Cavite City will depart at 6:30 AM and then will make the return trip from Escolta at 6:30 PM. For the amenities, there's free WiFi and movie streaming onboard.
Travel Time
The estimated travel time between Cavite and Escolta by Island Water ferry is 45 minutes.
Fare Rates
| Passenger Type | Fare Price |
| --- | --- |
| Regular | ₱100.00 |
| Student | ₱80.00 |
| Senior Citizen/PWD | ₱71.50 |
| Child (4-11 yrs. old) | ₱50.00 |
| Child (below 4 yrs. old) | FREE |
Students, senior citizens, and PWDs must provide a valid I.D. to avail of the discounted rates.
Contact Information
Above are the customer service numbers of Island Water should you have any inquiries or questions regarding the trip.
Reference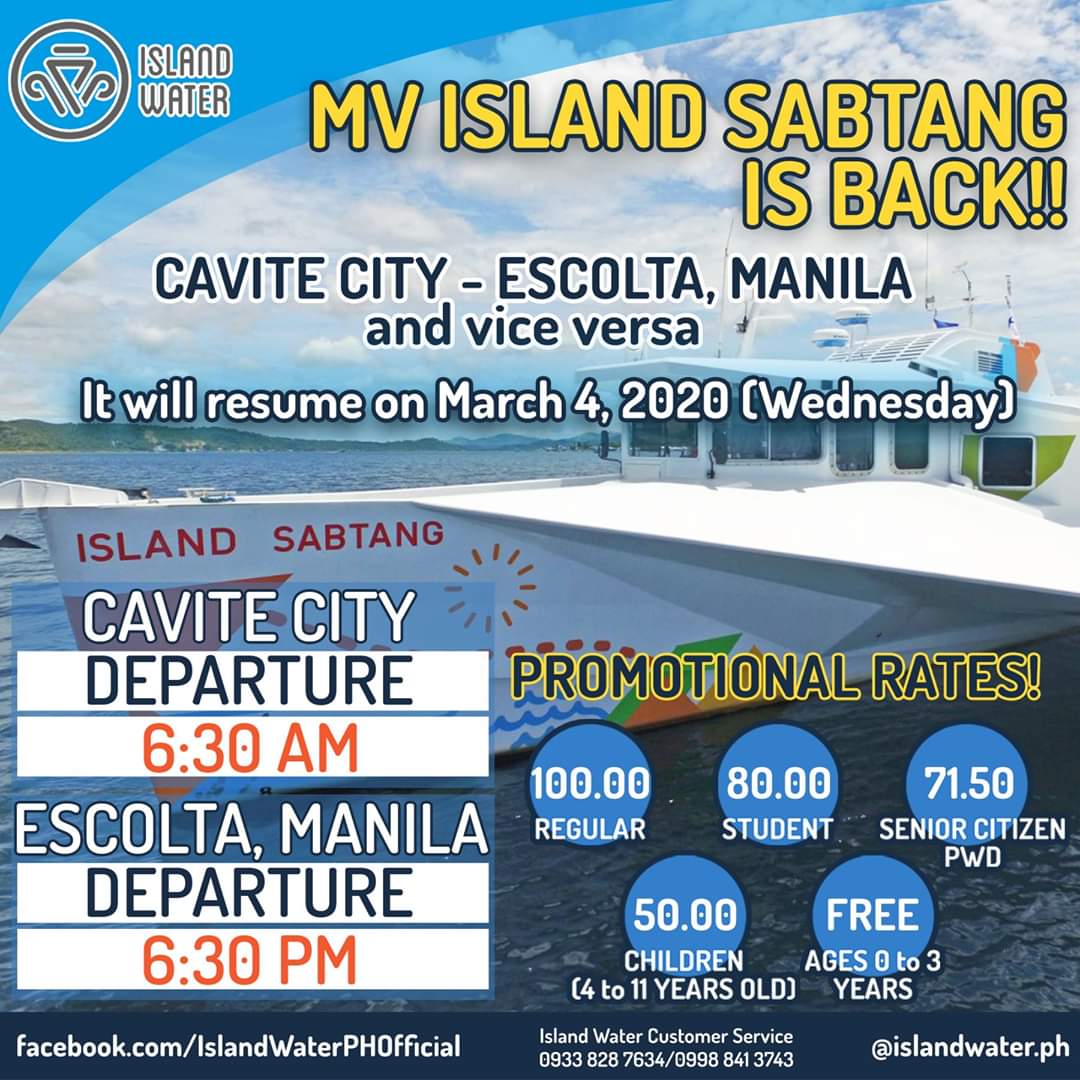 Hotels & Resorts
Manila
Cavite
Summary
Island Water has trips every day between Cavite City and Escolta, Manila. The ferry from Cavite will depart at 6:30 AM while the ferry from Escolta will depart at 6:30 PM. The total travel time is 45 minutes. The regular passenger fare for a one-way trip is ₱100.00.
About Island Water
Island Water by Shogun Ships is a new ferry service in the Philippines. They operate fast crafts and RoRo boats mostly around the Visayas region. Their list of destinations includes Cebu, Bohol, Hagnaya, Santa Fe, Tilik, Nasugbu, Masbate, Castilla, Sorsogon, Legazpi, Albay, Batangas, Balatero, Puerto Galera, Matnog, Allen, Cavite, and Escolta.
For the full list of ferry routes by Island Water, check out the Island Water page.
COMPLETE YOUR VACATION...