Ferry Schedules
George & Peter Lines has trips every week from Dumaguete to Dapitan and Dapitan to Dumaguete. There are boat trips from Dumaguete every day but if you're traveling from Dapitan there are no trips on Wednesdays and Fridays because the ship will be used for a direct trip to Cebu instead.
Weekly Schedule
Origin
Destination
Departure
Frequency
Dumaguete
Dapitan
4:00 AM
Daily
Dapitan
Dumaguete
4:00 PM
Mon, Tue, Thu,
Fri, Sat
The ferry trip from Dumaguete to Dapitan will depart at 4:00 AM daily at the Dumaguete port. The trip from Dapitan to Dumaguete will depart at 4:00 PM every Monday, Tuesday, Thursday, Friday, and Saturday only.
Travel Time
The estimated ferry travel time between Dapitan and Dumaguete is 4 hours.
Fare Rates
There are different accommodations to choose from when you're traveling the Dumaguete-Dapitan route. You can choose between the Economy (Yellow, Bridge, Upper Decks), Tourist, Cabin, and Suite class.
| Passenger | Economy | Tourist | Cabin | Suite |
| --- | --- | --- | --- | --- |
| Regular | ₱380 | ₱480 | ₱850 | ₱1700 |
Booking & Reservation
You can book your tickets ahead of time at any George & Peter Lines ticketing office or outlet. If you want to purchase your tickets online, you can do that on the G&P website. For online bookings, see the George & Peter Lines page.
BOOK A TRIP via 12Go
Contact Information
If you have any questions regarding the trips, feel free to contact George & Peter Lines, Inc. through the contact numbers provided:
Dumaguete Ticketing office – (035) 225-2345
Dapitan Ticketing office – 0909 690 7858
Freight Department – (032) 254-5405
Hotels & Resorts
Dumaguete City
Dapitan City
If you haven't found a place to stay yet, check out these great deals on hotels and resorts in Dumaguete and Dapitan. Above are some of the highest-rated accommodations near or around the area.
Reference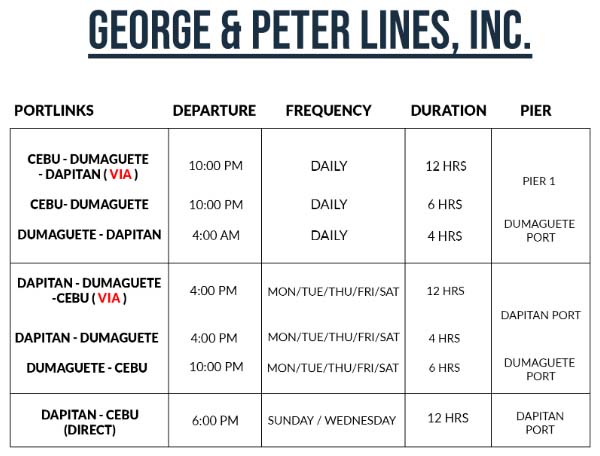 Similar Trips
Related Trips
About George & Peter Lines
George & Peter Lines, Inc. is a popular passenger and freight shipping company in the Visayas and Mindanao. Their ships are known as roros which can carry vehicles across the seas. Currently, their destinations include Cebu, Dumaguete, and Dapitan.
For the full list of routes by George & Peter Lines, check out the George & Peter Lines page.
COMPLETE YOUR VACATION...