Ferry Schedules
Cokaliong has trips every week from Nasipit to Jagna and vice versa. The ports for this route are the Nasipit Seaport in Agusan del Norte and the Jagna Port in Bohol. The vessel for this route is the MV Filipinas Butuan.
Nasipit to Jagna
Schedule
Nasipit
Departure Time
Jagna
Arrival Time
Vessel
Sunday
12:00 NN
5:00 PM
MV Filipinas Butuan
Jagna to Nasipit
Schedule
Jagna
Departure Time
Nasipit
Arrival Time
Vessel
Sunday
11:59 PM
5:00 AM (Monday)
MV Filipinas Butuan
The ferries are only available every Sunday. The ships can transport both passengers and vehicles.
Travel Time
The estimated ferry travel time between Nasipit and Jagna for Cokaliong is 5 hours.
Fare Rates
Passengers
The passenger fare depends on the type of accommodation that you choose. You can choose between Economy, Tourist, Business Class, Cabin, and a Suite Room. Students, senior citizens, and PWDs can avail of a fare discount as long as they can provide a valid I.D.
MV Filipinas Butuan
Accommodation
Deck/Room
Fare
Economy
CABADBARAN,
SAN FRANCISCO,
TUBAY
₱690.00
Tourist
TRENTO, PROSPERIDAD
₱805.00
Cabin
NASIPIT (Good for 12),
STA. JOSEFA (Good for 12),
ESPERANZA (Good for 12),
SIBAGAT (Good for 8),
ROSARIO (Good for 10),
TALACOGON (Good for 10)
₱920.00
Suite Room
CARMEN (Good for 2),
BUENAVISTA (Good for 2)
₱2,070.00/room
Suite Room
BAYUGAN (Good for 3),
MAGALLANES (Good for 3)
₱3,105.00/room
Vehicles
Passengers traveling with private vehicles, please refer to the contact numbers provided in this article for the vehicle tariff rates.
Booking & Reservation
You can book your tickets for a future trip by purchasing them from the nearest Cokaliong ticketing office or through licensed ticketing agents.
Contact Information
For those with questions or inquiries about the trip, here is the contact number and email address of Cokaliong.
Reference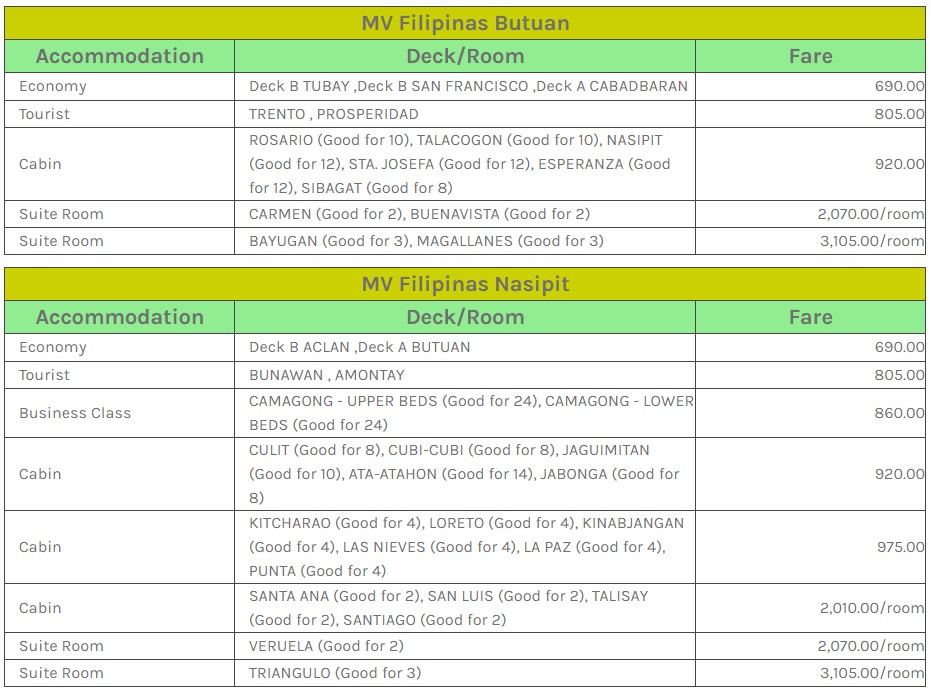 Related Trips
Summary
Cokaliong has weekly trips between Nasipit and Jagna, Bohol. The ferry from Nasipit will depart every Sunday at 12:00 NN while the ferry from Jagna will depart every Sunday at 11:59 PM. The total travel time is 5 hours. The cheapest passenger fare is ₱690.00.
About Cokaliong
Cokaliong is a famous RORO ferry service in the Philippines, especially in the Visayas and Mindanao regions. Their ships can transport both passengers and vehicles. Their list of destinations includes Cebu, Cagayan de Oro, Calbayog, Dapitan, Dumaguete, Iligan, Iloilo, Jagna, Maasin, Masbate, Nasipit, Ozamis, Palompon, and Surigao.
For the full list of routes by Cokaliong, check out the Cokaliong page.