Ferry Schedules
IMPORTANT: THIS ROUTE IS CURRENTLY UNAVAILABLE.
Weesam Express has two trips from Cebu to Maasin and Maasin to Cebu every Monday and Friday. One trip from Cebu and one from Maasin, both morning trips. They do not have trips for Tuesday, Wednesday, Thursday, Friday, Saturday, and Sunday. I believe the reason for this is that the ferry will be used for the Cebu-Tubigon route.
Monday and Friday
| Cebu Departure | Maasin Departure |
| --- | --- |
| 6:00 am | 9:45 am |
The first trip of Weesam Express from Cebu to Maasin is at 6:00 am and from Maasin to Cebu it is at 9:45 am.
Fare Rates
The Cebu-Maasin total fare rates depend on the accommodation that you choose. There are 3 types of accommodation to choose from: Economy, Tourist, and First Class. If you are a student or a senior citizen, you are eligible for ticket discounts but you have to provide your I.D. otherwise you will be charged as a Regular.
Passenger
Economy
Tourist
First class
Regular
₱750
₱800
₱900
Student
₱640
₱680
₱765
Senior
₱600
₱640
₱720
Child
(3-11 y.o.)
₱375
₱400
₱450
Passenger fare rates range from 375 pesos to 900 pesos. Children below 3 years old are free of charge.
Booking & Reservation
Weesam Express does not offer online booking for the Bacolod-Iloilo trip but you can buy tickets ahead of time. To purchase tickets, just head to any Weesam Express ticketing office or recognized ticketing outlets. Make sure to bring your I.D. with you.
Photo Reference
This photo was taken outside the Weesam Express ticketing office in Cebu City.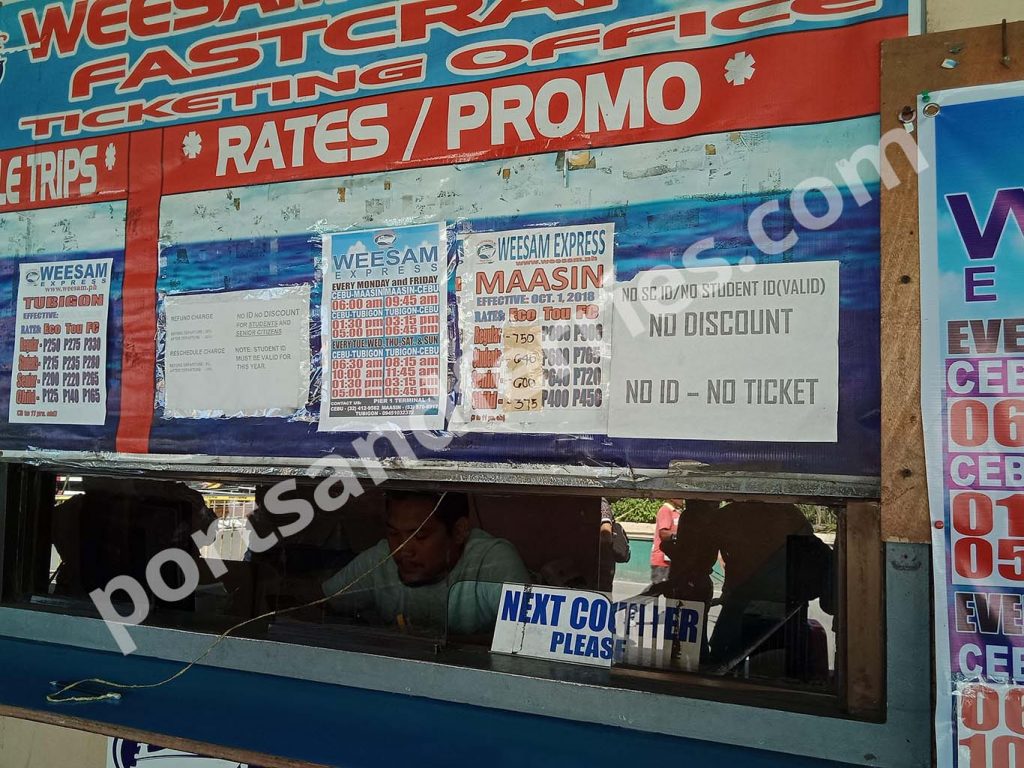 Contact Information
Weesam Express has two contact numbers which passengers can use to get in touch with them.
Cebu office – (032) 412-9562
Maasin office – (053) 570-8917
Related Trips
About Weesam Express
Weesam Express is a popular fast craft ferry service in the Visayas and Mindanao regions of the Philippines. They offer trips to different destinations such as Cebu to Tubigon, Cebu to Maasin, Cebu to Tagbilaran, Iloilo to Bacolod, Isabela to Zamboanga, Zamboanga to Jolo, and vice versa.
For the full list of routes by Weesam Express, check out the Weesam Express page.
COMPLETE YOUR VACATION...