Ferry Schedules
Trans-Asia has trips every week from Ozamis to Iligan. This is a one-way trip but if you wish to travel from Iligan City to Ozamis City, there is a trip by Cokaliong.
Ozamis to Iligan
The ferry from Ozamis/Ozamiz City will depart for Iligan City at 12:00 NN every Tuesday, Thursday, and Saturday.
Travel Time
The estimated travel time between Ozamis and Iligan is 2 hours.
Fare Rates
The ticket fare depends on which accommodation class you choose. Passengers can choose between 2nd-Class Non-Aircon, 2nd-Class Aircon, Tourist Class, Tourist Deluxe, Cabin, and Private Room. The rates below are the regular prices.
Accommodation
Rates
2nd Class Non-Aircon
₱200.00
2nd Class Aircon (Sitting)
₱220.00
2nd Class Aircon (Lying)
₱235.00
Tourist Class
₱270.00
Tourist Deluxe
₱300.00
Cabin
(Mixed-gender room)
₱350/pax
Private Room
₱1200.00/room
The price for the Private Room is the room rate. The fare is exclusive of the optional insurance fee of ₱10.
Booking & Reservation
You can book your tickets online through the Trans-Asia Shipping website. You can also purchase tickets ahead of time at their ticketing outlets/offices.
Contact Information
Trans-Asia has provided different contact numbers which you can call for any inquiries or questions about their trips.
Reference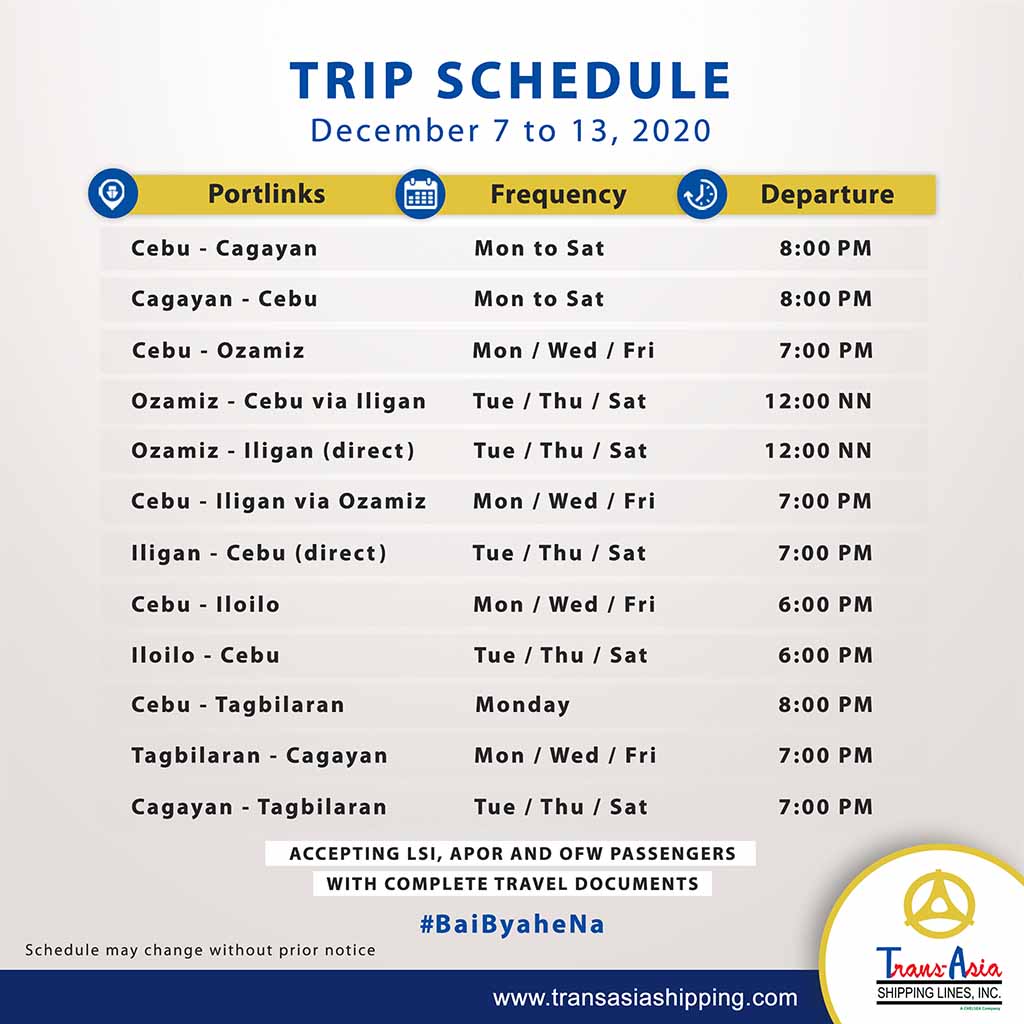 Hotels & Resorts
Iligan City
Ozamiz City
Related Trips
Summary
Trans-Asia has weekly trips from Ozamis City to Iligan City. The ferry from Ozamis City will depart at 12:00 NN every Tuesday, Thursday, and Saturday. The total travel time is 2 hours. The regular passenger fare is ₱200.00.
About Trans-Asia Shipping
Trans-Asia is a popular passenger and cargo ship in the Philippines. It is a roro/freight boat that allows the transport of vehicles which is convenient for those who wish to bring along their own cars. Trans-Asia has trips to Cebu, Cagayan de Oro, Iloilo, Iligan, Masbate, Ozamiz, Tagbilaran, and vice versa.
For the full list of routes by Trans-Asia, check out the Trans-Asia page.
COMPLETE YOUR VACATION...