Ferry Schedules
Trans-Asia only has one trip every week from Iligan to Tagbilaran. The ports for this route are the Iligan City Port in Lanao del Norte and the Tagbilaran City Port in Bohol Island.
Iligan to Tagbilaran
Every Saturday at 4:00 PM
The ship will depart from Iligan City to Tagbilaran City at 4:00 PM every Saturday. Unfortunately, this is a one-way trip only and there is no trip from Tagbilaran to Iligan.
Travel Time
The estimated ferry travel time between Iligan City and Tagbilaran City is 10 hours.
Fare Rates
The ticket fare depends on which accommodation class you choose. For the Cebu-Masbate trip, you can choose between 2nd-Class Non-Aircon, 2nd-Class Aircon, Tourist Class, Tourist Deluxe, Cabin, and Private Room.
Accommodations
Rates
2nd Class Non-Aircon
₱910.00
2nd Class Aircon (Sitting)
₱940.00
2nd Class Aircon (Lying)
₱960.00
Tourist Class
₱1050.00
Tourist Deluxe
(Mixed-gender room)
₱1160.00/pax
Cabin
(Mixed-gender room)
₱1350.00/pax
Private Room
₱3000.00 (2 pax)
The price for the Private Room is the room rate. The fare is exclusive of the optional insurance fee of 10 PHP.
Booking & Reservation
You can book your tickets online through the Trans-Asia Shipping website. You can also purchase tickets ahead of time at their ticketing outlets/offices.
Reference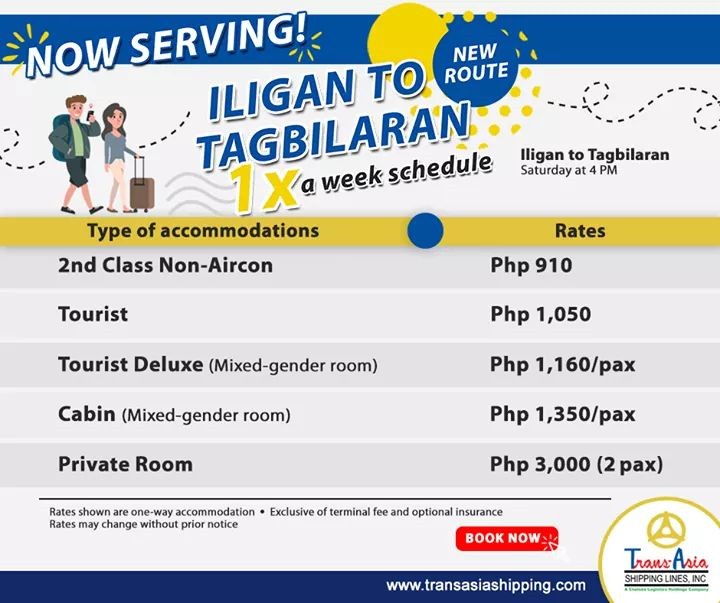 Contact Information
(032) 254-6491 loc. 236, 239, 244 (Main Office)
Hotels & Resorts
Iligan City
Tagbilaran City
About Trans-Asia Shipping
Trans-Asia is a popular passenger and cargo ship in the Philippines. It is a roro/freight boat that allows the transport of vehicles which is convenient for those who wish to bring along their own cars. Trans-Asia has trips to Cebu, Cagayan de Oro, Iloilo, Iligan, Masbate, Ozamiz, Tagbilaran, and vice versa.
For the full list of routes by Trans-Asia, check out the Trans-Asia page.
COMPLETE YOUR VACATION...