Ferry Schedules
SuperCat has ferry trips every day from Cebu to Tagbilaran and vice versa. The ports for this route are the Cebu City Pier 1 and the Tagbilaran City Port in Bohol. The ferries are fast craft vessels that can transport passengers only and not vehicles.
Daily Schedule
Cebu City
Departure Time
Tagbilaran City
Departure Time
5:50 AM
5:50 AM
8:15 AM
8:15 AM
11:00 AM
11:00 AM
1:15 PM
1:15 PM
3:35 PM
3:35 PM
6:00 PM
5:45 PM
The first trip from Cebu City departs at 5:50 AM with the last trip at 6:00 PM. Meanwhile, the first trip from Tagbilaran City is at 5:50 AM with the last trip at 5:45 PM.
Travel Time
The estimated ferry travel time between Cebu and Tagbilaran is 2 hours.
Fare Rates
The ticket fare depends on the accommodation that you choose and there are two to choose from, the Tourist and Business class. Senior citizens, PWDs, and children get a fare discount.
Passenger
Tourist class
Business class
Regular
₱500
₱900
Student
₱500
₱800
Senior Citizen
₱447
₱715
PWD
₱447
₱800
Child
(3-11 yrs. old)
₱325
₱500
The rates above are for one-way trips. When purchasing tickets, please bring your I.D. with you.
Online Booking
BOOK FERRY TICKET
You can book your tickets at the different ticketing offices of SuperCat or through affiliated ticketing agents. For the Bacolod-Iloilo route, the only requirement is a valid ID.
Contact Information
SuperCat has provided two contact numbers that passengers can use to call for any inquiries or questions.
Cebu City – (032) 233-7000
Tagbilaran City – (038) 501-9472
Reference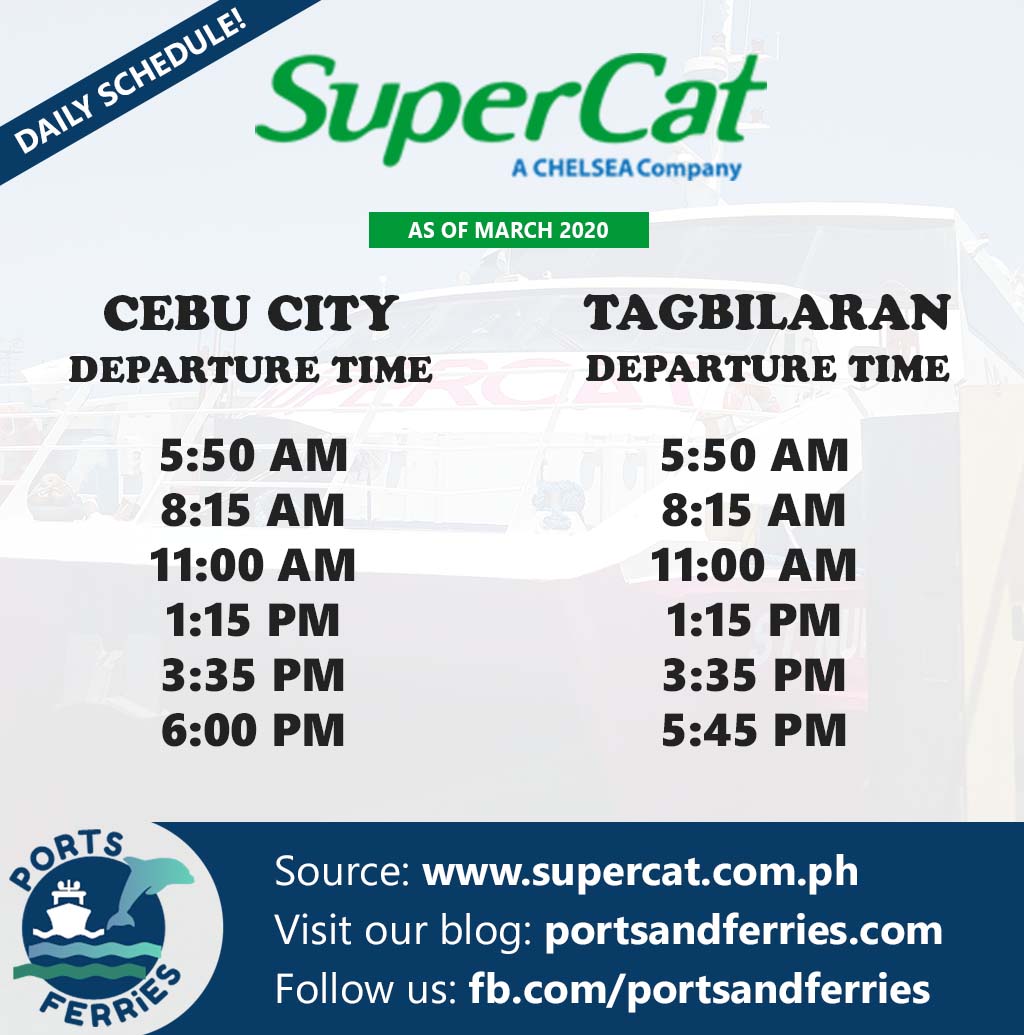 Hotels & Resorts
Cebu City
Tagbilaran City
Related Trips
Summary
SuperCat has daily trips from Cebu City to Tagbilaran City and vice versa. The first trips from Cebu City and Tagbilaran City will both depart at 5:50 AM. The total travel time is 2 hours. The different fares are 500 PHP for the Tourist class and 900 PHP for the Business class.
About SuperCat
SuperCat, owned by Chelsea Logistics and Infrastructure Holdings Corp., is a famous fast craft ferry service in Luzon and Visayas. They offer daily trips to different destinations such as Cebu, Ormoc, Tagbilaran, Bacolod, Iloilo, Calapan, and Batangas. Known for its affordable rates, SuperCat is popular among budget travelers.
For the full list of routes by SuperCat, check out the SuperCat page.