Ferry Schedules
Super Shuttle Ferry has trips daily from Batangas to Calapan and vice versa. The ports for this route are the Batangas City Port and the Calapan City Port in Oriental Mindoro.
Daily Schedule
| Batangas to Calapan | Calapan to Batangas |
| --- | --- |
| 5:15 AM | 1:15 AM |
| 5:15 PM | 1:15 PM |
The first trip from Batangas City will depart at 5:15 AM with the last trip at 5:15 PM. Meanwhile, the first trip from Calapan City will depart at 1:15 AM with the last trip 1:15 PM.
Travel Time
The estimated ferry travel time between Batangas and Calapan for Super Shuttle Ferry is 2 hours.
Fare Rates
| Passenger Type | Fare Rate |
| --- | --- |
| Regular | ₱240.00 |
| Student | ₱197.50 |
| Senior Citizen | ₱171.50 |
| Minor (3-11 y.o.) | ₱120.00 |
The regular passenger fare is ₱240.00. Students, senior citizens, and PWDs must bring a valid I.D. to avail of the discounted prices.
Booking & Reservation
For bookings and reservations, you can visit the official website of Super Shuttle Ferry at supershuttleroro.com or through their ticketing affiliate Barkota.
Contact Information
If you have any inquiries about the trip, feel free to use the contact numbers provided by Super Shuttle. There are two sets of phone numbers, one set is for their passenger boats while the second set is for their cargo-only ships.
Passenger/Cargo
Cargo only
Reference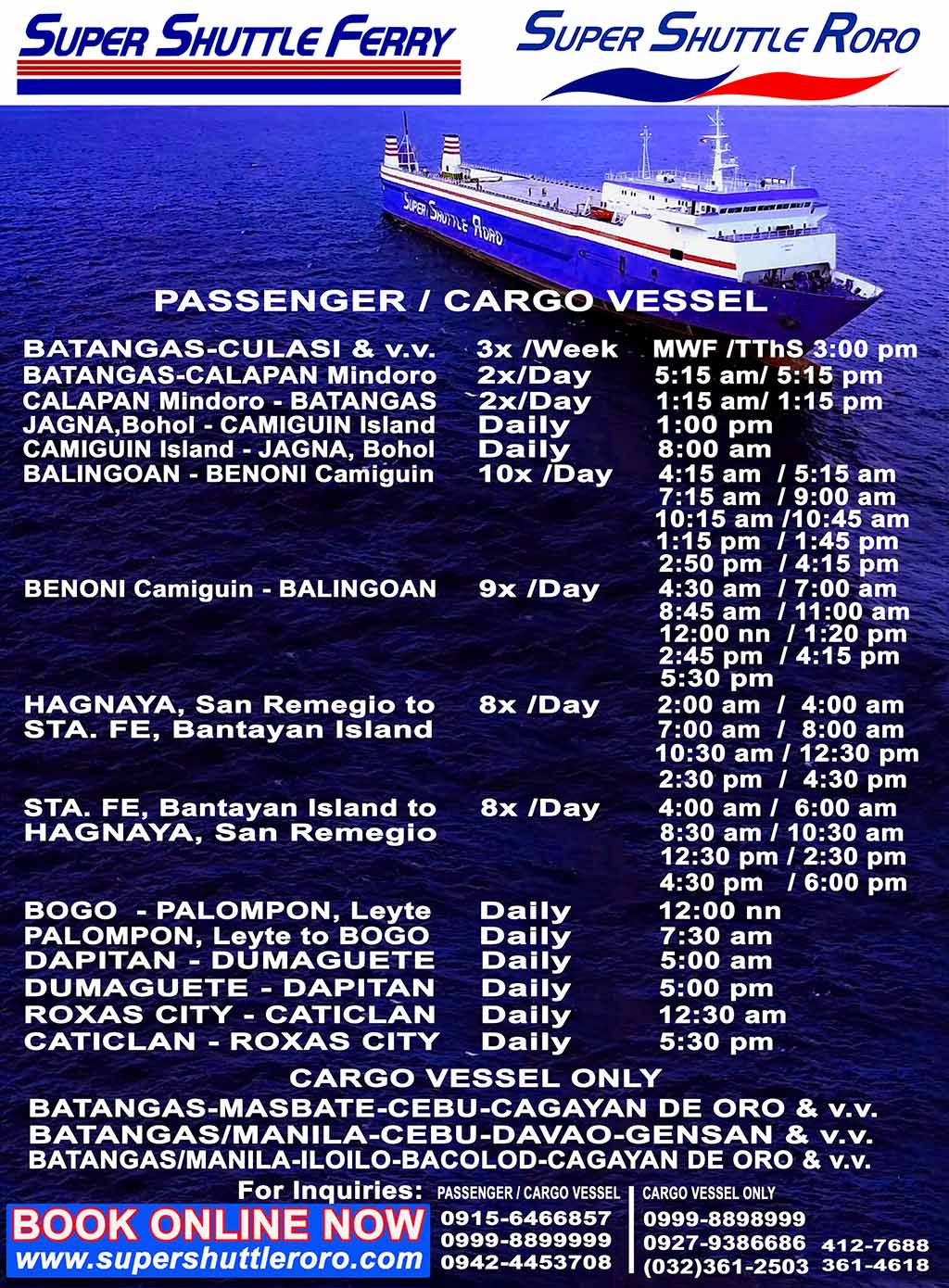 Related Trips
Hotels & Resorts
Batangas City
Calapan City
Summary
Super Shuttle Ferry has trips every day between Batangas and Calapan. The ferry from Batangas will depart at 5:15 AM and 5:15 PM while the ferry from Calapan will depart at 1:15 AM and 1:15 PM. The total travel time is 2 hours. The regular passenger fare is ₱240.00.
About Super Shuttle Ferry
Super Shuttle Ferry offers both passenger and cargo-only ships. They have trips all around the Philippines which include destinations such as Balbagon, Batangas, Bogo, Calapan, Caticlan, Culasi, Dapitan, Dumaguete, Hagnaya, Jagna, Palompon, Roxas, and Santa Fe of Bantayan Island.
For the full list of routes by Super Shuttle Ferry, check out the Super Shuttle Ferry page.