Ferry Schedule
Starlite Ferries has trips every week from Iloilo City to Bacolod City. This is a ONE-WAY trip only which means there is no return trip from Bacolod City. If you wish to travel from Bacolod to Iloilo, there are alternative ferries however such as FastCat, OceanJet, SuperCat, etc. You can find their links below this page.
Iloilo to Bacolod
9:00 AM (Wednesday, Friday, and Sunday)
The RORO ferry from Iloilo City will depart at 9:00 AM every Wednesday, Friday, and Sunday. This route is part of the Batangas-Antique-Iloilo-Bacolod route by Starlite Ferries.
Travel Time
The estimated travel time from Iloilo to Bacolod is over 2 hours.
Fare Rates
Passengers
The fare depends on the accommodation and whether the passenger is an adult (regular), a student, senior citizen, minor, or an infant. There are five different accommodations to choose from:
Reclining Seat
Economy Bed Bunk
Tourist Bed Bunk
Cabin
VIP Room (Good for 2 persons)
Fare Matrix
| Passenger | Recliner | Economy | Tourist | Cabin |
| --- | --- | --- | --- | --- |
| Regular | ₱288.00 | ₱288.00 | ₱288.00 | ₱350.00 |
| Student | ₱230.00 | ₱230.00 | ₱230.00 | ₱280.00 |
| Senior Citizen/PWD | ₱206.00 | ₱206.00 | ₱206.00 | ₱250.00 |
| Minor (4-11 y.o.) | ₱144.00 | ₱144.00 | ₱144.00 | ₱175.00 |
| Infant (below 4 y.o.) | ₱25.00 | ₱25.00 | ₱25.00 | ₱25.00 |
The VIP Room costs ₱1,000.00 which is good for two persons.
Important note: Students, senior citizens, and PWDs must provide their valid IDs to avail of the discount. If not, they will be charged the full regular fare.
Rolling Cargo
| Vehicle | Iloilo to Bacolod |
| --- | --- |
| Motorcycle | ₱1,160.00 |
| Tricycle | ₱1,560.00 |
| Private Vehicle | ₱1,960.00 |
The vehicle fare already includes the fare for the driver.
Contact Information
If you have any questions or inquiries about the trip, feel free to refer to the contact numbers provided below to get in touch with Starlite Ferries.
Booking & Reservation
You can book your tickets through the Starlite Ferries website or with their ticketing partners. Also, you can purchase tickets at any of their outlets and offices near you.
Reference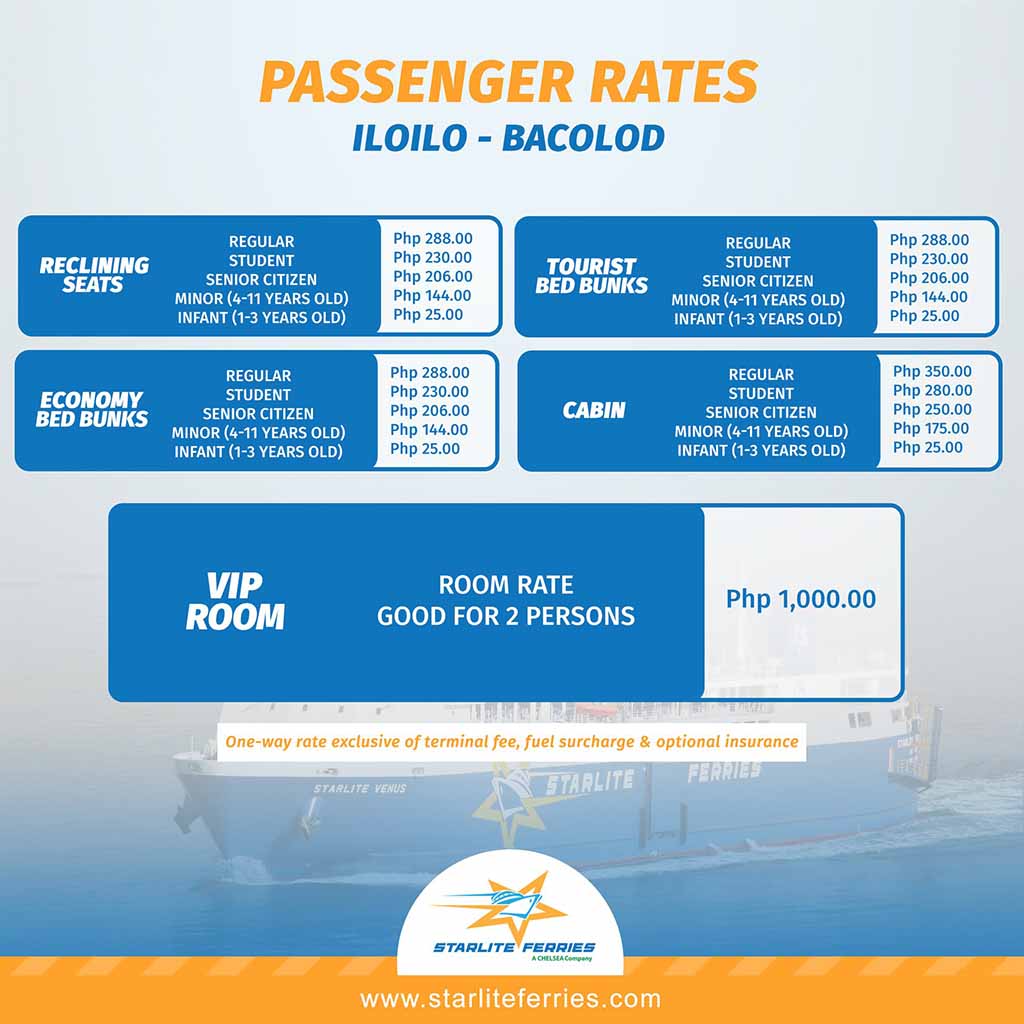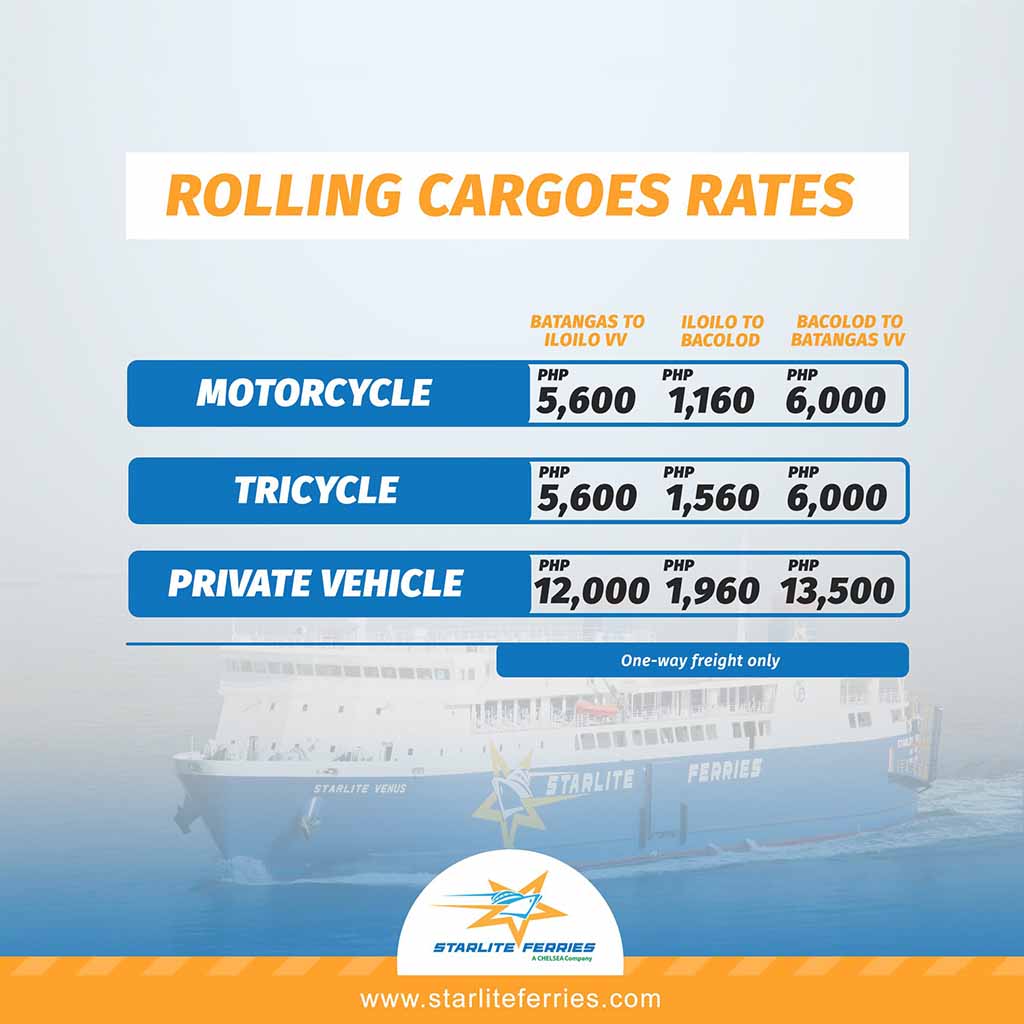 Hotels & Resorts
Related Trips
Summary
Starlite Ferries has weekly trips from Iloilo to Bacolod. The trip from Iloilo City departs at 9:00 AM every Wednesday, Friday, and Sunday. The total travel time is over 2 hours. The regular passenger fare for the Economy Class is ₱288.00. The RORO vessel for this route is the M/V Starlite Venus.
About Starlite Ferries
Starlite Ferries is a popular RORO ferry service in the Philippines. RORO ships can transport both passengers and vehicles which is convenient for those who opt to travel with their cars or motorcycles. Their destinations include Abra de Ilog, Antique, Bacolod, Batangas, Calapan, Caticlan, Cebu, Guimaras, Iloilo, Lipata, Nasipit, Odiongan, Sibuyan, Surigao, Puerto Galera, and Roxas of Capiz.
Check out the Starlite Ferries page for all the available routes.