Ferry Schedules
Starlite Ferries has trips every day from Batangas to Abra de Ilog and vice versa. The ports for this route are the Port of Batangas and the Abra de Ilog Port in Occidental Mindoro.
Daily Schedule
Batangas City
Departure Time
Abra de Ilog
Departure Time
9:00 AM
1:00 PM
5:00 PM
9:00 PM
The first trip from Batangas will depart at 9:00 AM with the last trip at 5:00 PM. Meanwhile, the first trip from Abra de Ilog will depart at 5:00 AM with the last at 9:00 PM.
Travel Time
The estimated ferry travel time between Batangas and Abra de Ilog is around 2 hours and 30 minutes.
Fare Rates
The passenger fare depends on whether you are an adult (regular), a student, senior citizen, or a child.
| Passenger | Fare Rates |
| --- | --- |
| Regular | ₱260.00 |
| Student | ₱208.00 |
| Senior Citizen/PWD | ₱186.00 |
| Minor (4-11 y.o.) | ₱130.00 |
Students, senior citizens, and PWDs must provide their valid IDs to avail of the discount.
Booking & Reservation
BOOK FERRY TICKET
You can book your tickets online through the Starlite Ferries website or with their ticketing partners. Also, you can purchase tickets at any of their outlets and offices near you.
Freight Rates
Vehicles
Motorcycle – ₱1,100
Below 3m – ₱1,500
Private vehicles (3m to 5.9m)- ₱1,900
Regular Elf – ₱2,300
Elf Extended – ₱2,700
Elf 6 wheeler – ₱3,100
Regular Forward – ₱3,500
Forward Extended – ₱3,900
Forward Long Chassis – ₱4,300
10w Regular – ₱4,700
10w Extended – ₱5,100
12w Regular – ₱5,500
12w Extended – ₱5,900
Container Van
20ft – ₱8,500
40ft – ₱12,500
Heavy Equipment
Small – ₱18,000
Medium – ₱20,000
Large – ₱22,000
Reference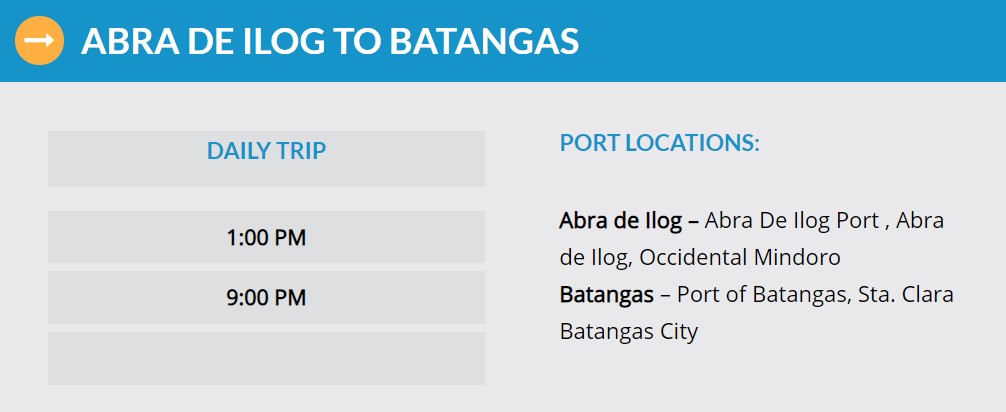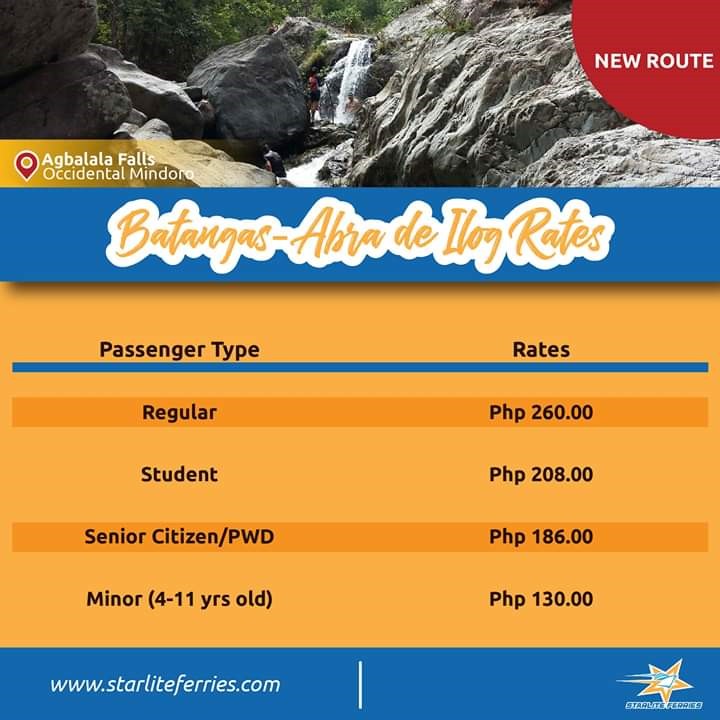 Hotels & Resorts
Batangas City
Related Trips
Summary
There are daily trips between Batangas and Abra de Ilog. The first trip from Batangas departs at 9:00 AM while from Abra de Ilog the first trip departs at 1:00 PM. The total travel time is around 2 hours and 30 minutes. The regular passenger fare is 260 PHP.
About Starlite Ferries
Starlite Ferries is a popular RORO ferry service in the Philippines. RORO ships can transport both passengers and vehicles which is convenient for those who opt to travel with their cars or motorcycles. Their destinations include Abra de Ilog, Antique, Bacolod, Batangas, Calapan, Caticlan, Cebu, Guimaras, Iloilo, Lipata, Nasipit, Odiongan, Sibuyan, Surigao, Puerto Galera, and Roxas of Capiz.
Check out the Starlite Ferries page for all the available routes.
COMPLETE YOUR VACATION...