Ferry Schedules
OceanJet has trips every day from Cebu to Ormoc and vice versa. The fast craft ships will depart from the Cebu City Pier 1 and Ormoc Ferry Terminal in Leyte.
Daily Schedule
Cebu City
Departure Time
Ormoc City
Departure Time
6:00 AM
9:30 AM
1:30 PM
5:00 PM
The fast craft from Cebu City will depart at 6:00 AM and 1:30 PM. Meanwhile, if you are traveling from Ormoc City, the ferry will depart at 9:30 AM and 5:00 PM.
Travel Time
The estimated ferry travel time between Cebu and Ormoc is 3 hours.
Fare Rates
The ticket fare depends on the type of accommodation that you choose and there are three to choose from: Open Air, Tourist class, and Business class. There is a fare discount for students, senior citizens, PWDs, and minors.
| Accommodation | Fare Rates |
| --- | --- |
| Open Air | ₱600.00 |
| Tourist class | ₱650.00 |
| Business class | ₱1200.00 |
The regular passenger is 600 PHP for Open Air, 650 PHP for the Tourist class, and 1200 PHP for the Business class.
Online Booking
BOOK FERRY TICKET
You can book your tickets online through 3rd-party affiliates or on the OceanJet website. Online booking allows you to purchase your tickets ahead of time so that you don't have to queue at their respective ticketing offices.
Contact Information
OceanJet has provided six contact numbers that passengers can use to call for any inquiries or questions.
Reference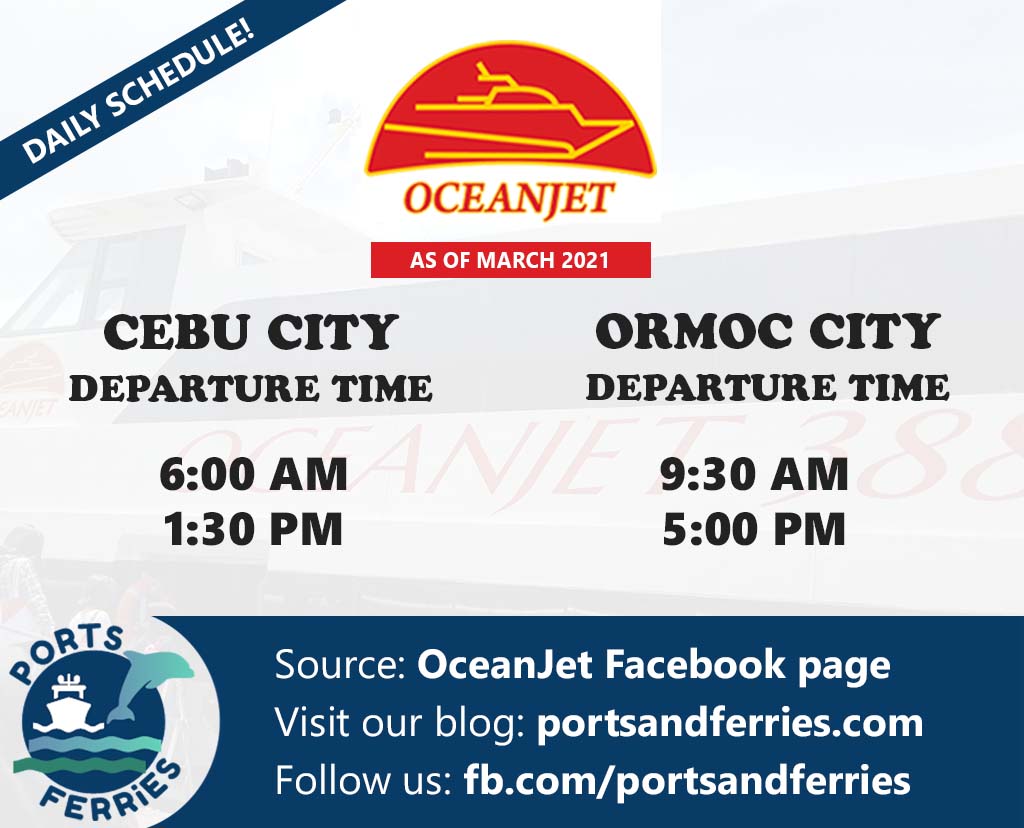 Hotels & Resorts
Cebu City
Ormoc City
Related Trips
Summary
OceanJet has daily ferry trips between Cebu City and Ormoc City. The fast craft will depart from Cebu City at 6:00 AM and 1:30 PM. Meanwhile, from Ormoc City, the ferry will depart at 9:30 AM and 5:00 PM. The travel time is around 3 hours. The regular passenger fare is ₱650.00.
About OceanJet
OceanJet is a famous fast craft ferry service in the Visayan region of the Philippines. They offer trips to different destinations such as Cebu, Camotes, Tagbilaran, Getafe, Ormoc, Dumaguete, Leyte, Siquijor, Bacolod, Iloilo, Batangas, Balatero, Puerto Galera. Out of all the fast craft companies, OceanJet has the most number of trips every day.
For the full list of routes by OceanJet, check out the OceanJet page.