Ferry Schedules
Medallion Transport has trips every day from Cebu to Dipolog and vice versa. The ports for this route are the Cebu City Pier 3 and the Dipolog City Port in Zamboanga del Norte.
Daily Schedule
Cebu City
Departure Time
Dipolog City
Departure Time
8:30 PM
7:00 PM
The ferry from Cebu City will depart at 8:30 PM while the ferry from Dipolog City will depart at 7:00 PM daily.
Travel Time
The estimated travel time between Cebu and Dipolog is 9 hours.
Fare Rates
The ticket fare depends on which accommodation you choose. There are five types of accommodations to choose from for the Cebu-Dipolog trip of Medallion Transport. The accommodations are Tourist Class, Economy Class, Business Class, Executive Suite, and VIP Suite.
Passengers
| Passenger Type | Economy Class | Tourist Class | Business Class |
| --- | --- | --- | --- |
| Regular | ₱790.00 | ₱1150.00 | ₱1420.00 |
| Student | ₱671.50 | ₱977.00 | ₱1207.00 |
| Minor | ₱395.00 | ₱575.00 | ₱710.00 |
| Senior Citizen | ₱564.29 | ₱821.43 | ₱1014.29 |
| PWD | ₱654.29 | ₱832.43 | ₱1014.29 |
Suites
VIP Suite Room – ₱6600.00 (maximum 4 pax)
Executive Suite Room – ₱4200.00 (maximum 2 pax)
Booking & Reservation
You can book tickets online through the Medallion Transport website or their 3rd-party affiliates. The benefit of online bookings is that you'll be able to reserve accommodation ahead of time.
Contact Information
Medallion Transport Inc. has provided eight contact numbers which you can call for any inquiries or questions about the trip.
Reference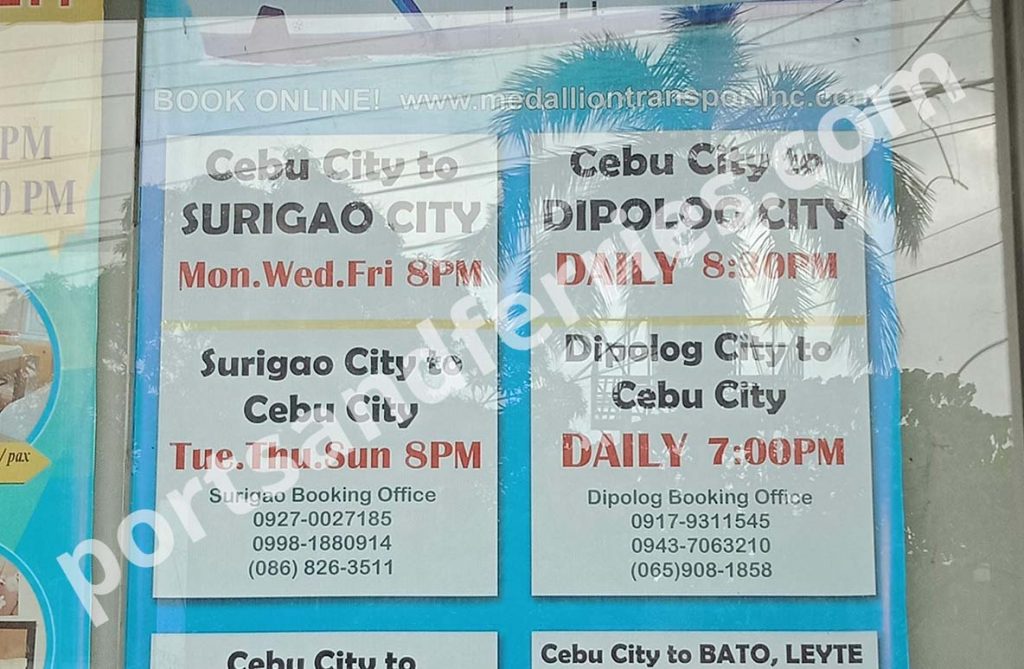 Hotels & Resorts
Cebu City
Dipolog City
Related Trips
Summary
Medallion Transport has daily trips between Cebu and Dipolog. From Cebu City, the ferry will depart at 8:30 PM. From Dipolog City, the ferry will depart at 7:00 PM. The total travel time is 9 hours. The cheapest passenger fare is ₱790.00 for the Economy Class.
About Medallion Transport
Medallion Transport Inc. is a popular shipping and ferry company in the Visayas and Mindanao region of the Philippines. It is a freight/RORO ship so it allows the transport of personal vehicles and rolling cargo. Currently, they have trips from and to Bato, Cebu, Dapitan, Dipolog, Dumaguete, Palompon, Surigao, and Ubay.
For the full list of routes by Medallion Transport Inc., check out the Medallion Transport page.