Ferry Schedules
NOTICE: THIS ROUTE HAS TEMPORARILY BEEN CANCELED.
Lite Ferry has trips every day from Dipolog to Oslob and vice versa. There is only one trip from Oslob, Cebu and also only one trip from Dipolog, Zamboanga del Norte. This is one of their newest routes.
Daily Schedule
| Origin | Destination | Departure Time | Arrival Time |
| --- | --- | --- | --- |
| Dipolog | Oslob | 10:00 PM | 3:00 AM |
| Oslob | Dipolog | 2:00 PM | 7:00 PM |
The boat from Dipolog City departs at 10:00 PM and will arrive in Oslob at the Mainit Port at 3:00 AM. On the other hand, the boat from Oslob departs from the Mainit Port at 2:00 PM and will arrive in Dipolog at 7:00 PM. A RORO ship which can transport both passengers and vehicles.
Travel Time
The estimated ferry travel time between Dipolog and Oslob is 5 hours.
Fare Rates
Passengers
The passenger fare depends on the accommodation that you choose and whether you are a regular, senior citizen, student, or a minor. Regarding the accommodations, you can choose between the Economy or Standard class.
| Accommodation | Fare Rate |
| --- | --- |
| Economy Class | ₱420.00 |
| Standard Class | ₱440.00 |
There is a no I.D. no ticket policy. Senior citizens and students must provide their SC & school IDs to acquire a fare discount.
Vehicles
For passengers traveling with personal cars, the driver no longer has to pay the passenger fare because it's already included on the vehicle fare. But for motorcycles, you have to pay the passenger fare separately.
| Vehicle | Fare Rate |
| --- | --- |
| Motorcycle | ₱1410 |
| Picanto/Avanza | ₱3270 |
| Fortuner | ₱4220 |
| Toyota Grandia | ₱4500 |
| Kia Bongo 6W | ₱5120 |
Booking & Reservation
You can book your tickets ahead of time by heading to any Lite Ferry ticketing office/outlet or visit their official website if you want to book online.
Rebooking
Those who plan to re-book their tickets before or after the departure time will have to pay a surcharge fee if they want to reschedule. The surcharge fee if you re-book before your scheduled departure time is 5% while the surcharge fee for those who re-book after their scheduled departure time is 10%.
Photo Reference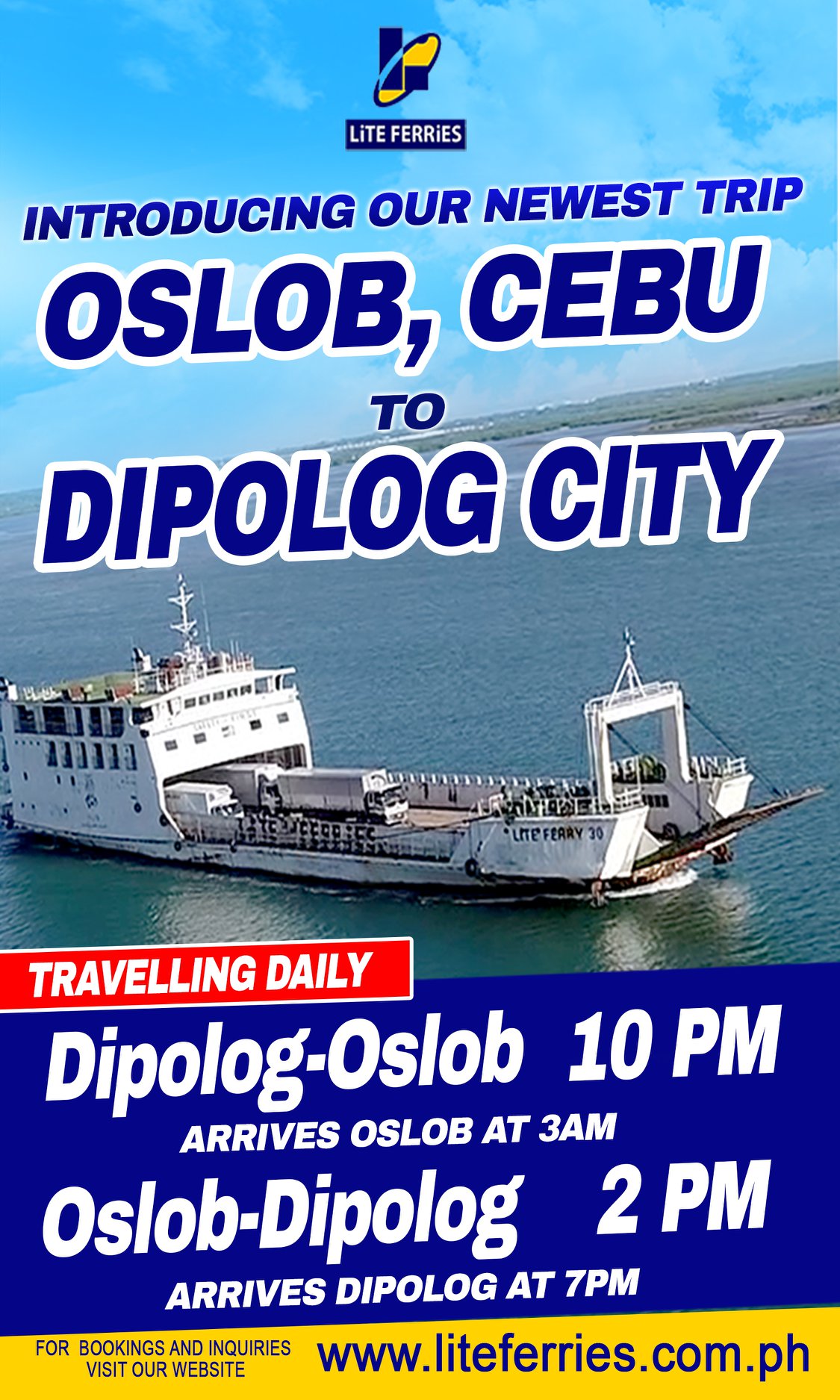 Contact Information
Lite Ferry has provided different contact numbers which you can call for any inquiries or questions about the trip.
Hotels & Resorts
Oslob, Cebu
Dipolog City
Related Trips
Summary
Lite Ferry has daily trips between Dipolog and Oslob, Cebu. The ferry will depart from Dipolog City at 10:00 PM while the ferry from Oslob will depart at 2:00 PM. The total travel time is 5 hours. The cheapest passenger fare is ₱420.00.
About Lite Ferry
Lite Ferries Shipping is a popular freight company in the Visayas and Mindanao. Their RORO/ROPAX ships can transport not only passengers but vehicles too. Their shipping routes include Argao, Bogo, Cagayan de Oro, Cebu, Dapitan, Dipolog, Dumaguete, Jagna, Larena, Loon, Nasipit, Ormoc, Oslob, Ouano, Plaridel, Samar, Samboan, San Carlos, Sorsogon, Tagbilaran, Toledo, and Tubigon.
For the full list of routes by Lite Ferries, check out the Lite Ferries page.
COMPLETE YOUR VACATION...