Lite Shipping Corporation has posted a travel advisory that one of the trips for their Loon-Argao route will be canceled due to big waves.
Here are the departure times that will be canceled:
Below is the full copy of the travel advisory:
TRIP ADVISORY AS OF today AUGUST 8,2019

TO OUR VALUED PASSENGERS:

We regret to inform you that our trip schedule tonight August ,2019 from LOON to ARGAO at 2pm is CANCELLED due to big waves..

We will update you as soon as possible of the status of the trip.

Please be guided accordingly.

Thank you.

Lite Shipping Corporation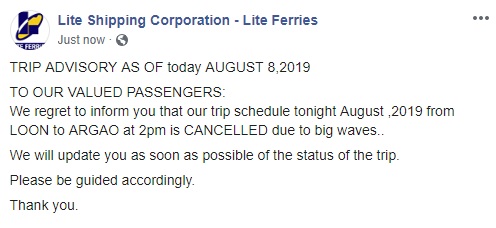 COMPLETE YOUR VACATION...