Lite Shipping Corporation has posted a travel advisory on their Facebook page that two trips of their Cebu-Tubigon route will be canceled due to a mechanical problem.
Here are the departure times that will be canceled:
Cebu to Tubigon – 1:00 AM (August 5)
Tubigon to Cebu – 4:00 AM (August 5)
The trips will resume at 7:00 AM tomorrow.
Below is the full copy of the travel advisory:
Trip Advisory as of August 4, 2019

To our valued passengers:
We regret to inform you that our trip to Cebu – Tubigon at 1:00 a.m. and Tubigon – Cebu at 4:00 a.m. is cancelled due to mechanical problem.
Trip schedule will resume tomorrow at 7:00 a.m. (Cebu – Tubigon)
Please be guided accordingly.
Thank you!

Lite Shipping Corporation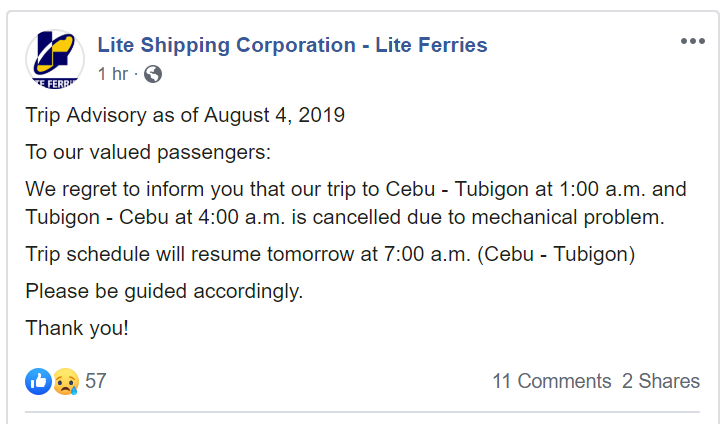 COMPLETE YOUR VACATION...