Ferry Schedules
Island Water has ferry trips every day from Tilik to Nasugbu and vice versa. There are two trips from Tilik, Lubang Island and two trips from Nasugbu, Batangas. The shipping vessel for this route is the MY Island Sabtang.
NOTE: ISLAND WATER NO LONGER OFFERS TRIPS BETWEEN TILIK AND NASUGBU
Daily Schedule
| Tilik to Nasugbu | Nasugbu to Tilik |
| --- | --- |
| 6:00 AM | 9:00 AM |
| 12:00 NN | 3:30 PM |
Travel Time
The estimated travel time between Tilik and Nasugbu is 1 hour and 50 minutes.
Fare Rates
The passenger fare depends on whether you are a regular, student, senior citizen, or PWD. If you are one of the last three that were just mentioned, you can avail a fare discount as long as you can provide a valid ID.
| Passenger | Ferry Fare |
| --- | --- |
| Regular | ₱440.00 |
The fare is inclusive of snacks. There is also a charging station, onboard entertainment, and free WiFi.
Contact Information
These are the contact numbers provided by Island Water if you have any questions about the trip. You can also find these on their Facebook page.
Tilik
Nasugbu
Reference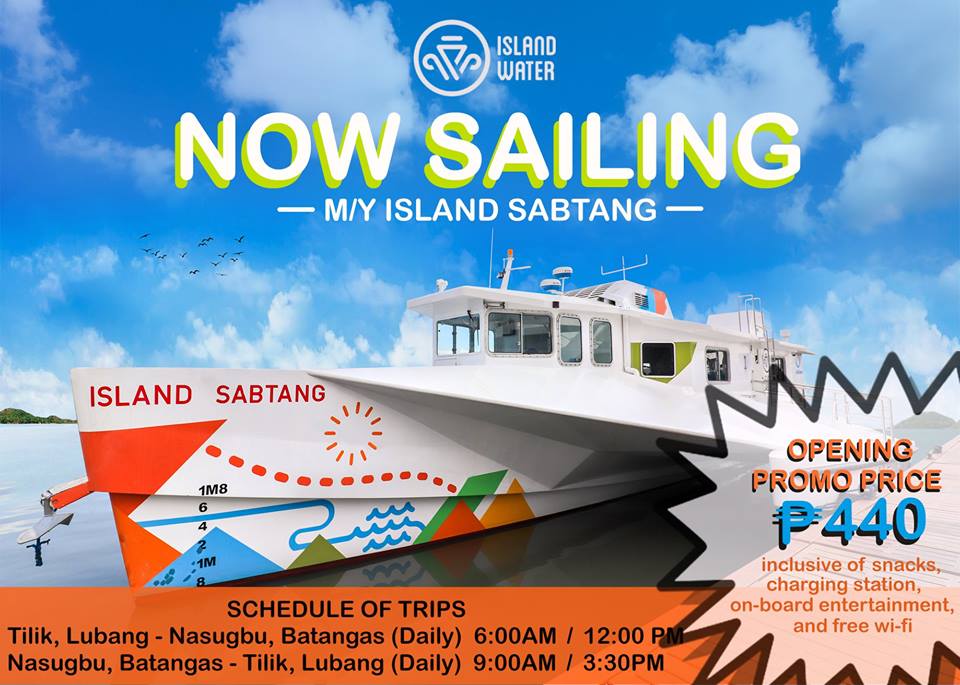 Hotels & Resorts
Nasugbu, Batangas
About Island Water
Island Water by Shogun Ships is a new ferry service in the Philippines. They operate fast crafts and RoRo boats mostly around the Visayas region. Their list of destinations includes Cebu, Bohol, Hagnaya, Santa Fe, Tilik, Nasugbu, Masbate, Castilla, Sorsogon, Legazpi, Albay, Batangas, Balatero, Puerto Galera, Matnog, Allen, Cavite, and Escolta.
For the full list of ferry routes by Island Water, check out the Island Water page.
COMPLETE YOUR VACATION...