Ferry Schedules
Island Water has ferry trips every day from Batangas to Balatero, Puerto Galera and vice versa. The ships will depart from the Port of Batangas and the Balatero Port in Puerto Galera, Oriental Mindoro. The shipping vessels for this route are the Island Biri and Island Calaguas.
Batangas to Balatero
Batangas City
Departure Time
Balatero, Puerto Galera
Arrival Time
5:45 AM
7:15 AM
6:30 AM
8:00 AM
9:00 AM
10:30 AM
12:15 PM
1:45 PM
2:45 PM
4:15 PM
4:00 PM
5:30 PM
6:15 PM
7:45 PM
Balatero to Batangas
Balatero, Puerto Galera
Departure Time
Batangas City
Arrival Time
4:45 AM
6:15 AM
7:30 AM
9:00 AM
10:30 AM
12:00 NN
12:45 PM
2:15 PM
2:00 PM
3:30 PM
4:30 PM
6:00 PM
The first trip from Batangas will depart at 5:45 AM with the last trip at 6:15 PM. Meanwhile, the first trip from Balatero, Puerto Galera will depart at 4:45 AM with the last trip at 4:30 PM.
Travel Time
The estimated travel time between Batangas and Balatero is around 1 hour and 30 minutes.
Fare Rates
The passenger fare depends on the accommodation that you choose. For the Island Biri vessel, you can choose between the Tourist class and VIP class. Passengers in the VIP class get unlimited coffee, water, and one pastry.
| Passenger | Tourist Class | VIP Class |
| --- | --- | --- |
| Regular/Adult | ₱320.00 | ₱500.00 |
| Senior Citizen/PWD | ₱229.00 | ₱400.00 |
| Student | ₱256.00 | ₱358.00 |
| Children (4-11 y.o.) | ₱160.00 | ₱250.00 |
| Children (0-3 y.o.) | FREE | FREE |
Luggage
The fare is inclusive of 15 kilograms of luggage. If you go above that, there is an additional charge of 25 PHP.
Booking & Reservation
FIND TICKETS FOR ROUTE
You can book your tickets online on their official website or by heading to any Island Water ticketing office. You could also do it by phone by using the contact numbers they've provided which you can find in the next section.
Contact Information
Here are the different contact numbers you can use for inquiries or for trip reservations & bookings:
Reference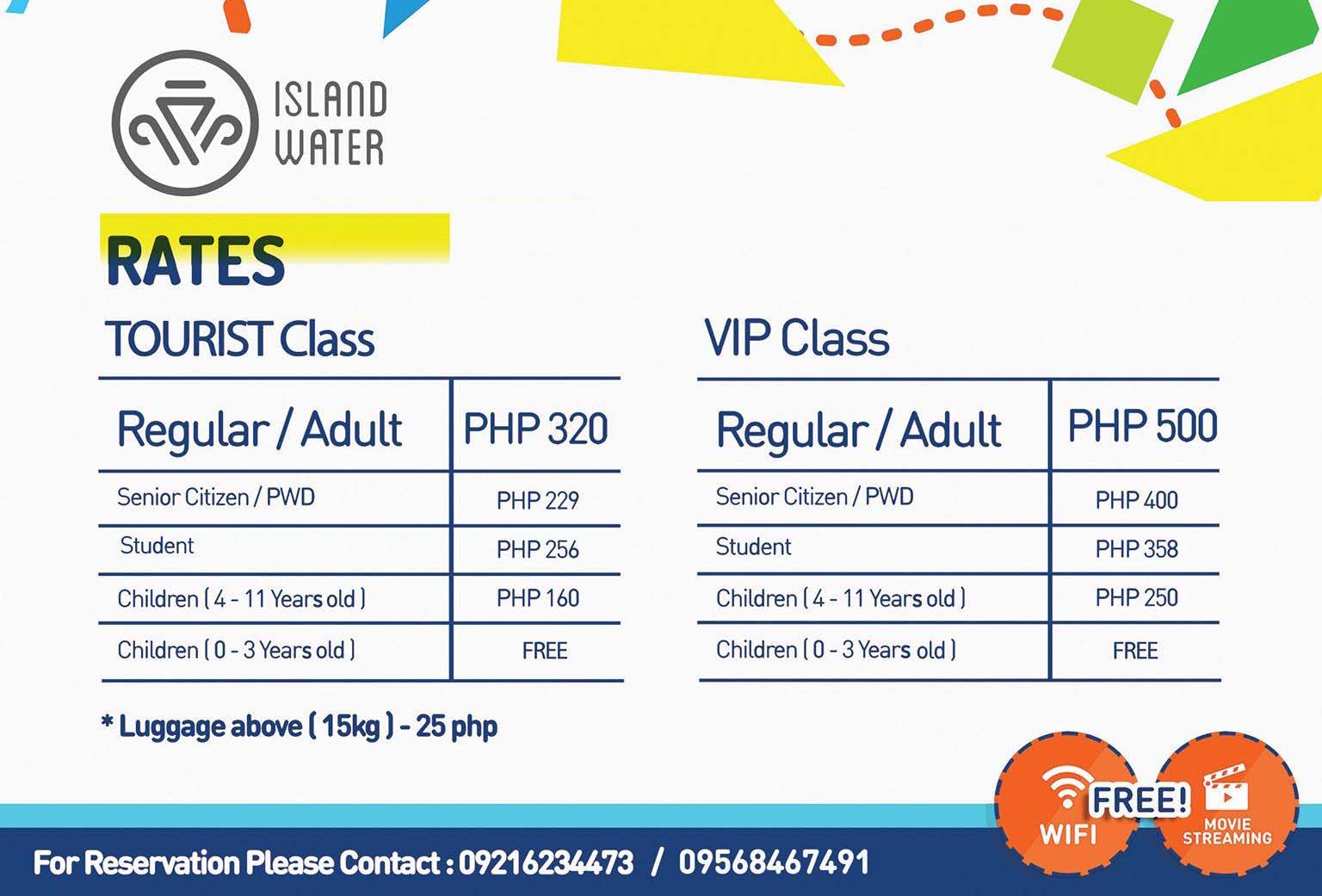 Hotels & Resorts
Batangas
Puerto Galera
Related Trips
Summary
Island Water has daily trips between Batangas and Balatero, Puerto Galera. The ferry from Batangas will depart at 5:45 AM while the ferry from Balatero will depart at 4:45 AM. The total travel time is around 1 hour and 30 minutes. The regular passenger fare is 320 PHP for the Tourist class and 500 PHP for the VIP class.
About Island Water
Island Water by Shogun Ships is a new ferry service in the Philippines. They operate fast crafts and RoRo boats mostly around the Visayas region. Their list of destinations includes Cebu, Bohol, Hagnaya, Santa Fe, Tilik, Nasugbu, Masbate, Castilla, Sorsogon, Legazpi, Albay, Batangas, Balatero, Puerto Galera, Matnog, Allen, Cavite, and Escolta.
For the full list of ferry routes by Island Water, check out the Island Water page.