Ferry Schedules
Clemer Lines has ferry trips every day from Ibo, Lapu-Lapu to Jetafe, Bohol and vice versa. Jetafe is also known as Getafe. The boat will depart from the Ibo Wharf and the Port of Jetafe.
Daily Schedule
| Ibo to Getafe | Getafe to Ibo |
| --- | --- |
| 9:00 AM | 6:00 AM |
| 3:00 PM | 12:00 NN |
The first trip from Ibo (Pusok) will depart at 9:00 AM with the last trip at 3:00 PM. While the first trip from Getafe is at 6:00 AM with the last trip at 12:00 NN. Lapu-Lapu City is located in Mactan Island.
Travel Time
The estimated ferry travel time between Ibo and Jetafe/Getafe for Clemer Lines is 2 hours.
Passenger Fare Rates
| Passenger | Fare |
| --- | --- |
| Regular | ₱200.00 |
The regular passenger fare is 200 PHP. Students and senior citizens can avail of a fare discount as long as they can provide a valid ID.
Bookings & Reservations
There are no online bookings for this route for Clemer Lines.
Contact Information
Here are the contact numbers of Clemer Lines if you have any questions or inquiries about the trip.
Reference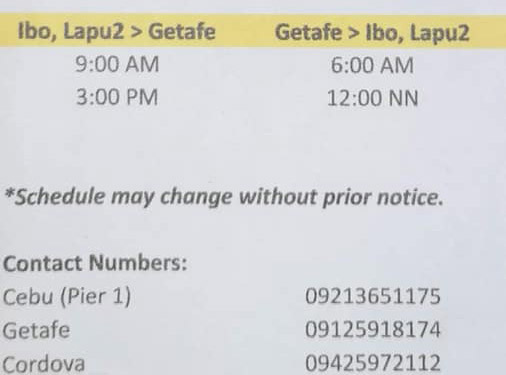 Hotels & Resorts
Lapu-Lapu City
Related Trips
About Clemer Lines
Clemer Lines is a popular ferry service in Getafe, Bohol. Their list of destinations includes Cebu City, Ibo, Lapu-Lapu, and Cordova. Their fleets consist of a small ship and motorboats or motorbangkas.
For the full list of routes by Clemer Lines, check out the Clemer Lines page.
COMPLETE YOUR VACATION...